Fast Lane FLEX™ Classroom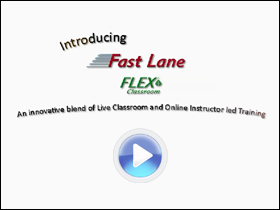 Fast Lane created the FLEX™ Classroom to provide a high-quality training option for those that aren't able to attend our ILT sessions in person. Our FLEX™ sessions deliver a world class learning experience to students in the actual classroom and students attending via our ILO solution.
With FLEX™ Classroom, – choose to attend via the Internet or attend the class in-person. Either way, your experience will be equally as effective – we guarantee it!
Some of the key features of our FLEX™ Classroom are:
Instructor-Led Training
Hands-on labs
Voice and video for remote students to interact with the Instructor and local students
Break out rooms that include both remote and local students
Electronic whiteboard for Instructor notes
VoIP or conference bridge audio
Low bandwidth requirements for remote students
Benefits of Fast Lane's FLEX™ Classroom:
More sessions to choose from that are Guaranteed-to-Run™
Another option to help achieve your training objectives
Reduced carbon footprint for our remote students
No travel requirements for our remote students
Remote students can attend from home, work or wherever they can get the appropriate bandwidth
Check out the schedule of FLEX™ classes below, and click on the city name to the right of the course date to begin the registration process, or click on the course name for more information.
This is a
FLEX
course, which is delivered both virtually and in the classroom.
Fast Lane will carry out all guaranteed training regardless of the number of attendees, exempt from force majeure or other unexpected events, like e.g. accidents or illness of the trainer, which prevent the course from being conducted.
This class will become guaranteed to run with one more student registration.
* This class is delivered by a partner.



Click on town name to book.

Cisco
FL-CCIEWL-BC
CCIE Wireless v3.0 Lab Boot Camp

This is a FLEX course.

Course language: English

May 8-12, 2017
Raleigh/Durham, NC
Enroll for classroom training
Enroll for online training


Time zone: US/Eastern

CI-SWITCH
Implementing Cisco IP Switched Networks v2.0

This is a FLEX course.

Course language: English

May 15-19, 2017
Dallas, TX
Enroll for classroom training
Enroll for online training


Time zone: US/Central

CI-ICND1
Interconnecting Cisco Network Devices Part 1

This is a FLEX course.

Course language: English

May 22-26, 2017
Raleigh/Durham, NC
Enroll for classroom training
Enroll for online training


Time zone: US/Eastern

CI-ICND1
Interconnecting Cisco Network Devices Part 1

This is a FLEX course.

Course language: English

May 29-Jun 2, 2017
Mississauga, Ontario
Enroll for classroom training
Enroll for online training


Time zone: Canada/Eastern

CI-ANDMA
Advanced Big Data Analytics, Architecture, Management and Applications

This is a FLEX course.

Course language: English

Jun 5-9, 2017
San Francisco, CA
Enroll for classroom training
Enroll for online training


Time zone: US/Pacific

CI-TSHOOT
Troubleshooting and Maintaining Cisco IP Networks v2.0

This is a FLEX course.

Course language: English

Jun 5-9, 2017
Dallas, TX
Enroll for classroom training
Enroll for online training


Time zone: US/Central

CI-SISE
Implementing and Configuring Cisco Identity Services Engine

This is a FLEX course.

Course language: English

Jun 12-16, 2017
Raleigh/Durham, NC
Enroll for classroom training
Enroll for online training


Time zone: US/Eastern

CI-AUCCE1
Administering Cisco Unified Contact Center Enterprise Part 1

This is a FLEX course.

Course language: English

Jun 19-23, 2017
Denver, CO
Enroll for classroom training
Enroll for online training


Time zone: US/Mountain

CI-NPDESI
Designing and Implementing Cisco Network Programmability

This is a FLEX course.

Course language: English

Jun 19-23, 2017
Raleigh/Durham, NC
Enroll for classroom training
Enroll for online training


Time zone: US/Eastern

CI-ICND2
Interconnecting Cisco Network Devices Part 2

This is a FLEX course.

Course language: English

Jun 19-23, 2017
Mississauga, Ontario
Enroll for classroom training
Enroll for online training


Time zone: Canada/Eastern

CI-ICND2
Interconnecting Cisco Network Devices Part 2

This is a FLEX course.

Course language: English

Jun 19-23, 2017
Raleigh/Durham, NC
Enroll for classroom training
Enroll for online training


Time zone: US/Eastern

CI-CIPTV2
Implementing Cisco IP Telephony & Video, Part 2

This is a FLEX course.

Course language: English

Jun 26-30, 2017
Mississauga, Ontario
Enroll for classroom training
Enroll for online training


Time zone: Canada/Eastern

CI-IMINS2
Managing Industrial Networks for Manufacturing with Cisco Technologies

This is a FLEX course.

Course language: English

Jun 26-30, 2017
Portland
Enroll for classroom training
Enroll for online training


Time zone: US/Pacific

CI-CCNAX
Interconnecting Cisco Network Devices: Accelerated

This is a FLEX course.

Course language: English

Jul 17-21, 2017
Raleigh/Durham, NC
Enroll for classroom training
Enroll for online training


Time zone: US/Eastern

CI-CCNAX
Interconnecting Cisco Network Devices: Accelerated

This is a FLEX course.

Course language: English

Jul 17-21, 2017
Mississauga, Ontario
Enroll for classroom training
Enroll for online training


Time zone: Canada/Eastern

CI-ANCISM
Cisco Information Server Administration

This is a FLEX course.

Course language: English

Aug 9-11, 2017
Raleigh/Durham, NC
Enroll for classroom training
Enroll for online training


Time zone: US/Eastern

CI-CIPTV2
Implementing Cisco IP Telephony & Video, Part 2

This is a FLEX course.

Course language: English

Aug 21-25, 2017
Mississauga, Ontario
Enroll for classroom training
Enroll for online training


Time zone: Canada/Eastern

CI-ANDMA
Advanced Big Data Analytics, Architecture, Management and Applications

This is a FLEX course.

Course language: English

Aug 28-Sep 1, 2017
Raleigh/Durham, NC
Enroll for classroom training
Enroll for online training


Time zone: US/Eastern

CI-IMINS2
Managing Industrial Networks for Manufacturing with Cisco Technologies

This is a FLEX course.

Course language: English

Sep 11-15, 2017
Toronto, ON
Enroll for classroom training
Enroll for online training


Time zone: Canada/Eastern

CI-IMINS2
Managing Industrial Networks for Manufacturing with Cisco Technologies

This is a FLEX course.

Course language: English

Sep 11-15, 2017
Raleigh/Durham, NC
Enroll for classroom training
Enroll for online training


Time zone: US/Eastern

CI-ICND1
Interconnecting Cisco Network Devices Part 1

This is a FLEX course.

Course language: English

Oct 2-6, 2017
Mississauga, Ontario
Enroll for classroom training
Enroll for online training


Time zone: Canada/Eastern

CI-NPDESI
Designing and Implementing Cisco Network Programmability

This is a FLEX course.

Course language: English

Oct 23-27, 2017
Raleigh/Durham, NC
Enroll for classroom training
Enroll for online training


Time zone: US/Eastern

CI-SISE
Implementing and Configuring Cisco Identity Services Engine

This is a FLEX course.

Course language: English

Oct 23-27, 2017
Raleigh/Durham, NC
Enroll for classroom training
Enroll for online training


Time zone: US/Eastern

CI-CIPTV2
Implementing Cisco IP Telephony & Video, Part 2

This is a FLEX course.

Course language: English

Oct 23-27, 2017
Mississauga, Ontario
Enroll for classroom training
Enroll for online training


Time zone: Canada/Eastern

CI-ICND2
Interconnecting Cisco Network Devices Part 2

This is a FLEX course.

Course language: English

Oct 30-Nov 3, 2017
Mississauga, Ontario
Enroll for classroom training
Enroll for online training


Time zone: Canada/Eastern

FL-CCIEWL-BC
CCIE Wireless v3.0 Lab Boot Camp

This is a FLEX course.

Course language: English

Nov 13-17, 2017
Raleigh/Durham, NC
Enroll for classroom training
Enroll for online training


Time zone: US/Eastern

CI-CCNAX
Interconnecting Cisco Network Devices: Accelerated

This is a FLEX course.

Course language: English

Nov 13-17, 2017
Mississauga, Ontario
Enroll for classroom training
Enroll for online training


Time zone: Canada/Eastern

CI-ANDMA
Advanced Big Data Analytics, Architecture, Management and Applications

This is a FLEX course.

Course language: English

Nov 27-Dec 1, 2017
Dallas, TX
Enroll for classroom training
Enroll for online training


Time zone: US/Central

CI-IMINS2
Managing Industrial Networks for Manufacturing with Cisco Technologies

This is a FLEX course.

Course language: English

Nov 27-Dec 1, 2017
Detroit
Enroll for classroom training
Enroll for online training


Time zone: US/Eastern

CI-ANCISM
Cisco Information Server Administration

This is a FLEX course.

Course language: English

Dec 11-13, 2017
Raleigh/Durham, NC
Enroll for classroom training
Enroll for online training


Time zone: US/Eastern

CI-CIPTV2
Implementing Cisco IP Telephony & Video, Part 2

This is a FLEX course.

Course language: English

Dec 18-22, 2017
Mississauga, Ontario
Enroll for classroom training
Enroll for online training


Time zone: Canada/Eastern




Cisco Advanced Services

CI-IMINS
Managing Industrial Networks with Cisco Networking Technologies

This is a FLEX course.

Course language: English

Jul 10-14, 2017
Toronto, ON
Enroll for classroom training
Enroll for online training


Time zone: Canada/Eastern

CI-IMINS
Managing Industrial Networks with Cisco Networking Technologies

This is a FLEX course.

Course language: English

Aug 21-25, 2017
Columbus
Enroll for classroom training
Enroll for online training


Time zone: US/Eastern

CI-IMINS
Managing Industrial Networks with Cisco Networking Technologies

This is a FLEX course.

Course language: English

Sep 25-29, 2017
Calgary, AB
Enroll for classroom training
Enroll for online training


Time zone: Canada/Mountain

CI-IMINS
Managing Industrial Networks with Cisco Networking Technologies

This is a FLEX course.

Course language: English

Oct 30-Nov 3, 2017
Chicago, IL
Enroll for classroom training
Enroll for online training


Time zone: US/Central

CI-IMINS
Managing Industrial Networks with Cisco Networking Technologies

This is a FLEX course.

Course language: English

Dec 11-15, 2017
Toronto, ON
Enroll for classroom training
Enroll for online training


Time zone: Canada/Eastern




NetApp

NA-ONTAP9ADM
ONTAP 9 Cluster Administration

This is a FLEX course.

Course language: English

May 1-3, 2017
Sunnyvale/San Jose, CA
Enroll for classroom training
Enroll for online training


Time zone: US/Pacific

NA-ONTAP9ADM
ONTAP 9 Cluster Administration

This is a FLEX course.

Course language: English

May 1-3, 2017
Raleigh/Durham, NC
Enroll for classroom training
Enroll for online training


Time zone: US/Eastern

NA-CDOTDP9
ONTAP 9 Cluster Administration and Data Protection Bundle

This is a FLEX course.

Course language: English

May 1-5, 2017
Sunnyvale/San Jose, CA
Enroll for classroom training
Enroll for online training


Time zone: US/Pacific

NA-CDOTDP9
ONTAP 9 Cluster Administration and Data Protection Bundle

This is a FLEX course.

Course language: English

May 1-5, 2017
Raleigh/Durham, NC
Enroll for classroom training
Enroll for online training


Time zone: US/Eastern

NA-DATAPROT9
ONTAP 9 Data Protection Administration

This is a FLEX course.

Course language: English

May 4-5, 2017
Raleigh/Durham, NC
Enroll for classroom training
Enroll for online training


Time zone: US/Eastern

NA-DATAPROT9
ONTAP 9 Data Protection Administration

This is a FLEX course.

Course language: English

May 4-5, 2017
Sunnyvale/San Jose, CA
Enroll for classroom training
Enroll for online training


Time zone: US/Pacific

NA-ONTAP9ADM
ONTAP 9 Cluster Administration

This is a FLEX course.

Course language: English

May 8-10, 2017
San Diego, CA
Enroll for classroom training
Enroll for online training


Time zone: US/Pacific

NA-CDOTDP9
ONTAP 9 Cluster Administration and Data Protection Bundle

This is a FLEX course.

Course language: English

May 8-12, 2017
San Diego, CA
Enroll for classroom training
Enroll for online training


Time zone: US/Pacific

NA-DATAPROT9
ONTAP 9 Data Protection Administration

This is a FLEX course.

Course language: English

May 11-12, 2017
San Diego, CA
Enroll for classroom training
Enroll for online training


Time zone: US/Pacific

NA-ONTAP9ADM
ONTAP 9 Cluster Administration

This is a FLEX course.

Course language: English

May 15-17, 2017
Columbus, OH
Enroll for classroom training
Enroll for online training


Time zone: US/Eastern

NA-ONTAP9ADM
ONTAP 9 Cluster Administration

This is a FLEX course.

Course language: English

May 15-17, 2017
Dallas, TX
Enroll for classroom training
Enroll for online training


Time zone: US/Central

NA-ONTAP9ADM
ONTAP 9 Cluster Administration

This is a FLEX course.

Course language: English

May 15-17, 2017
Philadelphia, PA
Enroll for classroom training
Enroll for online training


Time zone: US/Eastern

NA-CDOTDP9
ONTAP 9 Cluster Administration and Data Protection Bundle

This is a FLEX course.

Course language: English

May 15-19, 2017
Columbus, OH
Enroll for classroom training
Enroll for online training


Time zone: US/Eastern

NA-CDOTDP9
ONTAP 9 Cluster Administration and Data Protection Bundle

This is a FLEX course.

Course language: English

May 15-19, 2017
Dallas, TX
Enroll for classroom training
Enroll for online training


Time zone: US/Central

NA-CDOTDP9
ONTAP 9 Cluster Administration and Data Protection Bundle

This is a FLEX course.

Course language: English

May 15-19, 2017
Philadelphia, PA
Enroll for classroom training
Enroll for online training


Time zone: US/Eastern

NA-DATAPROT9
ONTAP 9 Data Protection Administration

This is a FLEX course.

Course language: English

May 18-19, 2017
Philadelphia, PA
Enroll for classroom training
Enroll for online training


Time zone: US/Eastern

NA-DATAPROT9
ONTAP 9 Data Protection Administration

This is a FLEX course.

Course language: English

May 18-19, 2017
Columbus, OH
Enroll for classroom training
Enroll for online training


Time zone: US/Eastern

NA-DATAPROT9
ONTAP 9 Data Protection Administration

This is a FLEX course.

Course language: English

May 18-19, 2017
Dallas, TX
Enroll for classroom training
Enroll for online training


Time zone: US/Central

NA-ONTAP9ADM
ONTAP 9 Cluster Administration

This is a FLEX course.

Course language: English

May 22-24, 2017
Columbia, MD
Enroll for classroom training
Enroll for online training


Time zone: US/Eastern

NA-CDOTDP9
ONTAP 9 Cluster Administration and Data Protection Bundle

This is a FLEX course.

Course language: English

May 22-26, 2017
Columbia, MD
Enroll for classroom training
Enroll for online training


Time zone: US/Eastern

NA-DATAPROT9
ONTAP 9 Data Protection Administration

This is a FLEX course.

Course language: English

May 25-26, 2017
Columbia, MD
Enroll for classroom training
Enroll for online training


Time zone: US/Eastern

NA-ONTAP9ADM
ONTAP 9 Cluster Administration

This is a FLEX course.

Course language: English

May 29-31, 2017
Mississauga, Ontario
Enroll for classroom training
Enroll for online training


Time zone: Canada/Eastern

NA-CDOTDP9
ONTAP 9 Cluster Administration and Data Protection Bundle

This is a FLEX course.

Course language: English

May 29-Jun 2, 2017
Mississauga, Ontario
Enroll for classroom training
Enroll for online training


Time zone: Canada/Eastern

NA-DATAPROT9
ONTAP 9 Data Protection Administration

This is a FLEX course.

Course language: English

Jun 1-2, 2017
Mississauga, Ontario
Enroll for classroom training
Enroll for online training


Time zone: Canada/Eastern

NA-ONTAP9ADM
ONTAP 9 Cluster Administration

This is a FLEX course.

Course language: English

Jun 5-7, 2017
Irvine, CA
Enroll for classroom training
Enroll for online training


Time zone: US/Pacific

NA-CDOTDP9
ONTAP 9 Cluster Administration and Data Protection Bundle

This is a FLEX course.

Course language: English

Jun 5-9, 2017
Irvine, CA
Enroll for classroom training
Enroll for online training


Time zone: US/Pacific

NA-DATAPROT9
ONTAP 9 Data Protection Administration

This is a FLEX course.

Course language: English

Jun 8-9, 2017
Irvine, CA
Enroll for classroom training
Enroll for online training


Time zone: US/Pacific

NA-ONTAP9ADM
ONTAP 9 Cluster Administration

This is a FLEX course.

Course language: English

Jun 12-14, 2017
Sacramento, CA
Enroll for classroom training
Enroll for online training


Time zone: US/Pacific

NA-ONTAP9ADM
ONTAP 9 Cluster Administration

This is a FLEX course.

Course language: English

Jun 12-14, 2017
Houston, TX
Enroll for classroom training
Enroll for online training


Time zone: US/Central

NA-ONTAP9ADM
ONTAP 9 Cluster Administration

This is a FLEX course.

Course language: English

Jun 12-14, 2017
Portland
Enroll for classroom training
Enroll for online training


Time zone: US/Pacific

NA-ONTAP9ADM
ONTAP 9 Cluster Administration

This is a FLEX course.

Course language: English

Jun 12-14, 2017
Raleigh/Durham, NC
Enroll for classroom training
Enroll for online training


Time zone: US/Eastern

NA-CDOTDP9
ONTAP 9 Cluster Administration and Data Protection Bundle

This is a FLEX course.

Course language: English

Jun 12-16, 2017
Raleigh/Durham, NC
Enroll for classroom training
Enroll for online training


Time zone: US/Eastern

NA-CDOTDP9
ONTAP 9 Cluster Administration and Data Protection Bundle

This is a FLEX course.

Course language: English

Jun 12-16, 2017
Houston, TX
Enroll for classroom training
Enroll for online training


Time zone: US/Central

NA-CDOTDP9
ONTAP 9 Cluster Administration and Data Protection Bundle

This is a FLEX course.

Course language: English

Jun 12-16, 2017
Sacramento, CA
Enroll for classroom training
Enroll for online training


Time zone: US/Pacific

NA-CDOTDP9
ONTAP 9 Cluster Administration and Data Protection Bundle

This is a FLEX course.

Course language: English

Jun 12-16, 2017
Portland
Enroll for classroom training
Enroll for online training


Time zone: US/Pacific

NA-DATAPROT9
ONTAP 9 Data Protection Administration

This is a FLEX course.

Course language: English

Jun 15-16, 2017
Houston, TX
Enroll for classroom training
Enroll for online training


Time zone: US/Central

NA-DATAPROT9
ONTAP 9 Data Protection Administration

This is a FLEX course.

Course language: English

Jun 15-16, 2017
Portland
Enroll for classroom training
Enroll for online training


Time zone: US/Pacific

NA-DATAPROT9
ONTAP 9 Data Protection Administration

This is a FLEX course.

Course language: English

Jun 15-16, 2017
Raleigh/Durham, NC
Enroll for classroom training
Enroll for online training


Time zone: US/Eastern

NA-DATAPROT9
ONTAP 9 Data Protection Administration

This is a FLEX course.

Course language: English

Jun 15-16, 2017
Sacramento, CA
Enroll for classroom training
Enroll for online training


Time zone: US/Pacific

NA-ONTAP9ADM
ONTAP 9 Cluster Administration

This is a FLEX course.

Course language: English

Jun 19-21, 2017
New York, NY
Enroll for classroom training
Enroll for online training


Time zone: US/Eastern

NA-ONTAP9ADM
ONTAP 9 Cluster Administration

This is a FLEX course.

Course language: English

Jun 19-21, 2017
Vancouver
Enroll for classroom training
Enroll for online training


Time zone: Canada/Pacific

NA-CDOTDP9
ONTAP 9 Cluster Administration and Data Protection Bundle

This is a FLEX course.

Course language: English

Jun 19-23, 2017
New York, NY
Enroll for classroom training
Enroll for online training


Time zone: US/Eastern

NA-CDOTDP9
ONTAP 9 Cluster Administration and Data Protection Bundle

This is a FLEX course.

Course language: English

Jun 19-23, 2017
Vancouver
Enroll for classroom training
Enroll for online training


Time zone: Canada/Pacific

NA-DATAPROT9
ONTAP 9 Data Protection Administration

This is a FLEX course.

Course language: English

Jun 22-23, 2017
New York, NY
Enroll for classroom training
Enroll for online training


Time zone: US/Eastern

NA-DATAPROT9
ONTAP 9 Data Protection Administration

This is a FLEX course.

Course language: English

Jun 22-23, 2017
Vancouver
Enroll for classroom training
Enroll for online training


Time zone: Canada/Pacific

NA-D7ADM
Data ONTAP 7-Mode Administration

This is a FLEX course.

Course language: English

Jun 26-30, 2017
Columbia, MD
Enroll for classroom training
Enroll for online training


Time zone: US/Eastern

NA-ONTAP9ADM
ONTAP 9 Cluster Administration

This is a FLEX course.

Course language: English

Jun 26-28, 2017
Boston, MA
Enroll for classroom training
Enroll for online training


Time zone: US/Eastern

NA-ONTAP9ADM
ONTAP 9 Cluster Administration

This is a FLEX course.

Course language: English

Jun 26-28, 2017
Minneapolis, MN
Enroll for classroom training
Enroll for online training


Time zone: US/Central

NA-CDOTDP9
ONTAP 9 Cluster Administration and Data Protection Bundle

This is a FLEX course.

Course language: English

Jun 26-30, 2017
Boston, MA
Enroll for classroom training
Enroll for online training


Time zone: US/Eastern

NA-CDOTDP9
ONTAP 9 Cluster Administration and Data Protection Bundle

This is a FLEX course.

Course language: English

Jun 26-30, 2017
Minneapolis, MN
Enroll for classroom training
Enroll for online training


Time zone: US/Central

NA-OCADM
NetApp OnCommand Unified Manager Administration

This is a FLEX course.

Course language: English

Jun 27-30, 2017
Raleigh/Durham, NC
Enroll for classroom training
Enroll for online training


Time zone: US/Eastern

NA-OCIIO
OnCommand Insight: Intelligent Operation

This is a FLEX course.

Course language: English

Jun 29-30, 2017
Sacramento, CA
Enroll for classroom training
Enroll for online training


Time zone: US/Pacific

NA-DATAPROT9
ONTAP 9 Data Protection Administration

This is a FLEX course.

Course language: English

Jun 29-30, 2017
Boston, MA
Enroll for classroom training
Enroll for online training


Time zone: US/Eastern

NA-DATAPROT9
ONTAP 9 Data Protection Administration

This is a FLEX course.

Course language: English

Jun 29-30, 2017
Minneapolis, MN
Enroll for classroom training
Enroll for online training


Time zone: US/Central

NA-ONTAP9ADM
ONTAP 9 Cluster Administration

This is a FLEX course.

Course language: English

Jul 10-12, 2017
Atlanta, GA
Enroll for classroom training
Enroll for online training


Time zone: US/Eastern

NA-ONTAP9ADM
ONTAP 9 Cluster Administration

This is a FLEX course.

Course language: English

Jul 10-12, 2017
Calgary, Alberta
Enroll for classroom training
Enroll for online training


Time zone: Canada/Mountain

NA-ONTAP9ADM
ONTAP 9 Cluster Administration

This is a FLEX course.

Course language: English

Jul 10-12, 2017
Seattle/Bellevue, WA
Enroll for classroom training
Enroll for online training


Time zone: US/Pacific

NA-CDOTDP9
ONTAP 9 Cluster Administration and Data Protection Bundle

This is a FLEX course.

Course language: English

Jul 10-14, 2017
Seattle/Bellevue, WA
Enroll for classroom training
Enroll for online training


Time zone: US/Pacific

NA-CDOTDP9
ONTAP 9 Cluster Administration and Data Protection Bundle

This is a FLEX course.

Course language: English

Jul 10-14, 2017
Atlanta, GA
Enroll for classroom training
Enroll for online training


Time zone: US/Eastern

NA-CDOTDP9
ONTAP 9 Cluster Administration and Data Protection Bundle

This is a FLEX course.

Course language: English

Jul 10-14, 2017
Calgary, Alberta
Enroll for classroom training
Enroll for online training


Time zone: Canada/Mountain

NA-DATAPROT9
ONTAP 9 Data Protection Administration

This is a FLEX course.

Course language: English

Jul 13-14, 2017
Calgary, Alberta
Enroll for classroom training
Enroll for online training


Time zone: Canada/Mountain

NA-DATAPROT9
ONTAP 9 Data Protection Administration

This is a FLEX course.

Course language: English

Jul 13-14, 2017
Seattle/Bellevue, WA
Enroll for classroom training
Enroll for online training


Time zone: US/Pacific

NA-DATAPROT9
ONTAP 9 Data Protection Administration

This is a FLEX course.

Course language: English

Jul 13-14, 2017
Atlanta, GA
Enroll for classroom training
Enroll for online training


Time zone: US/Eastern

NA-ONTAP9ADM
ONTAP 9 Cluster Administration

This is a FLEX course.

Course language: English

Jul 17-19, 2017
Sunnyvale/San Jose, CA
Enroll for classroom training
Enroll for online training


Time zone: US/Pacific

NA-ONTAP9ADM
ONTAP 9 Cluster Administration

This is a FLEX course.

Course language: English

Jul 17-19, 2017
Columbia, MD
Enroll for classroom training
Enroll for online training


Time zone: US/Eastern

NA-ONTAP9ADM
ONTAP 9 Cluster Administration

This is a FLEX course.

Course language: English

Jul 17-19, 2017
Chicago, IL
Enroll for classroom training
Enroll for online training


Time zone: US/Central

NA-CDOTDP9
ONTAP 9 Cluster Administration and Data Protection Bundle

This is a FLEX course.

Course language: English

Jul 17-21, 2017
Sunnyvale/San Jose, CA
Enroll for classroom training
Enroll for online training


Time zone: US/Pacific

NA-CDOTDP9
ONTAP 9 Cluster Administration and Data Protection Bundle

This is a FLEX course.

Course language: English

Jul 17-21, 2017
Columbia, MD
Enroll for classroom training
Enroll for online training


Time zone: US/Eastern

NA-CDOTDP9
ONTAP 9 Cluster Administration and Data Protection Bundle

This is a FLEX course.

Course language: English

Jul 17-21, 2017
Chicago, IL
Enroll for classroom training
Enroll for online training


Time zone: US/Central

NA-DATAPROT9
ONTAP 9 Data Protection Administration

This is a FLEX course.

Course language: English

Jul 20-21, 2017
Columbia, MD
Enroll for classroom training
Enroll for online training


Time zone: US/Eastern

NA-DATAPROT9
ONTAP 9 Data Protection Administration

This is a FLEX course.

Course language: English

Jul 20-21, 2017
Chicago, IL
Enroll for classroom training
Enroll for online training


Time zone: US/Central

NA-DATAPROT9
ONTAP 9 Data Protection Administration

This is a FLEX course.

Course language: English

Jul 20-21, 2017
Sunnyvale/San Jose, CA
Enroll for classroom training
Enroll for online training


Time zone: US/Pacific

NA-ONTAP9ADM
ONTAP 9 Cluster Administration

This is a FLEX course.

Course language: English

Jul 24-26, 2017
Los Angeles/El Segundo, CA
Enroll for classroom training
Enroll for online training


Time zone: US/Pacific

NA-ONTAP9ADM
ONTAP 9 Cluster Administration

This is a FLEX course.

Course language: English

Jul 24-26, 2017
Raleigh/Durham, NC
Enroll for classroom training
Enroll for online training


Time zone: US/Eastern

NA-CDOTDP9
ONTAP 9 Cluster Administration and Data Protection Bundle

This is a FLEX course.

Course language: English

Jul 24-28, 2017
Raleigh/Durham, NC
Enroll for classroom training
Enroll for online training


Time zone: US/Eastern

NA-CDOTDP9
ONTAP 9 Cluster Administration and Data Protection Bundle

This is a FLEX course.

Course language: English

Jul 24-28, 2017
Los Angeles/El Segundo, CA
Enroll for classroom training
Enroll for online training


Time zone: US/Pacific

NA-DATAPROT9
ONTAP 9 Data Protection Administration

This is a FLEX course.

Course language: English

Jul 27-28, 2017
Los Angeles/El Segundo, CA
Enroll for classroom training
Enroll for online training


Time zone: US/Pacific

NA-DATAPROT9
ONTAP 9 Data Protection Administration

This is a FLEX course.

Course language: English

Jul 27-28, 2017
Raleigh/Durham, NC
Enroll for classroom training
Enroll for online training


Time zone: US/Eastern

NA-ONTAP9ADM
ONTAP 9 Cluster Administration

This is a FLEX course.

Course language: English

Jul 31-Aug 2, 2017
Denver, CO
Enroll for classroom training
Enroll for online training


Time zone: US/Mountain

NA-ONTAP9ADM
ONTAP 9 Cluster Administration

This is a FLEX course.

Course language: English

Jul 31-Aug 2, 2017
Edison/Morristown, NJ
Enroll for classroom training
Enroll for online training


Time zone: US/Eastern

NA-ONTAP9ADM
ONTAP 9 Cluster Administration

This is a FLEX course.

Course language: English

Jul 31-Aug 2, 2017
Mississauga, Ontario
Enroll for classroom training
Enroll for online training


Time zone: Canada/Eastern

NA-CDOTDP9
ONTAP 9 Cluster Administration and Data Protection Bundle

This is a FLEX course.

Course language: English

Jul 31-Aug 4, 2017
Mississauga, Ontario
Enroll for classroom training
Enroll for online training


Time zone: Canada/Eastern

NA-CDOTDP9
ONTAP 9 Cluster Administration and Data Protection Bundle

This is a FLEX course.

Course language: English

Jul 31-Aug 4, 2017
Edison/Morristown, NJ
Enroll for classroom training
Enroll for online training


Time zone: US/Eastern

NA-CDOTDP9
ONTAP 9 Cluster Administration and Data Protection Bundle

This is a FLEX course.

Course language: English

Jul 31-Aug 4, 2017
Denver, CO
Enroll for classroom training
Enroll for online training


Time zone: US/Mountain

NA-DATAPROT9
ONTAP 9 Data Protection Administration

This is a FLEX course.

Course language: English

Aug 3-4, 2017
Denver, CO
Enroll for classroom training
Enroll for online training


Time zone: US/Mountain

NA-DATAPROT9
ONTAP 9 Data Protection Administration

This is a FLEX course.

Course language: English

Aug 3-4, 2017
Edison/Morristown, NJ
Enroll for classroom training
Enroll for online training


Time zone: US/Eastern

NA-DATAPROT9
ONTAP 9 Data Protection Administration

This is a FLEX course.

Course language: English

Aug 3-4, 2017
Mississauga, Ontario
Enroll for classroom training
Enroll for online training


Time zone: Canada/Eastern

NA-PERFCDOT
Performance Analysis on Clustered Data ONTAP

This is a FLEX course.

Course language: English

Aug 3-4, 2017
Raleigh/Durham, NC
Enroll for classroom training
Enroll for online training


Time zone: US/Eastern

NA-ONTAP9ADM
ONTAP 9 Cluster Administration

This is a FLEX course.

Course language: English

Aug 7-9, 2017
Dallas, TX
Enroll for classroom training
Enroll for online training


Time zone: US/Central

NA-ONTAP9ADM
ONTAP 9 Cluster Administration

This is a FLEX course.

Course language: English

Aug 7-9, 2017
Sacramento, CA
Enroll for classroom training
Enroll for online training


Time zone: US/Pacific

NA-CDOTDP9
ONTAP 9 Cluster Administration and Data Protection Bundle

This is a FLEX course.

Course language: English

Aug 7-11, 2017
Dallas, TX
Enroll for classroom training
Enroll for online training


Time zone: US/Central

NA-CDOTDP9
ONTAP 9 Cluster Administration and Data Protection Bundle

This is a FLEX course.

Course language: English

Aug 7-11, 2017
Sacramento, CA
Enroll for classroom training
Enroll for online training


Time zone: US/Pacific

NA-DATAPROT9
ONTAP 9 Data Protection Administration

This is a FLEX course.

Course language: English

Aug 10-11, 2017
Dallas, TX
Enroll for classroom training
Enroll for online training


Time zone: US/Central

NA-DATAPROT9
ONTAP 9 Data Protection Administration

This is a FLEX course.

Course language: English

Aug 10-11, 2017
Sacramento, CA
Enroll for classroom training
Enroll for online training


Time zone: US/Pacific

NA-ONTAP9ADM
ONTAP 9 Cluster Administration

This is a FLEX course.

Course language: English

Aug 14-16, 2017
New York, NY
Enroll for classroom training
Enroll for online training


Time zone: US/Eastern

NA-ONTAP9ADM
ONTAP 9 Cluster Administration

This is a FLEX course.

Course language: English

Aug 14-16, 2017
Tampa, FL
Enroll for classroom training
Enroll for online training


Time zone: US/Eastern

NA-ONTAP9ADM
ONTAP 9 Cluster Administration

This is a FLEX course.

Course language: English

Aug 14-16, 2017
Ottawa
Enroll for classroom training
Enroll for online training


Time zone: Canada/Eastern

NA-CDOTDP9
ONTAP 9 Cluster Administration and Data Protection Bundle

This is a FLEX course.

Course language: English

Aug 14-18, 2017
New York, NY
Enroll for classroom training
Enroll for online training


Time zone: US/Eastern

NA-CDOTDP9
ONTAP 9 Cluster Administration and Data Protection Bundle

This is a FLEX course.

Course language: English

Aug 14-18, 2017
Ottawa
Enroll for classroom training
Enroll for online training


Time zone: Canada/Eastern

NA-CDOTDP9
ONTAP 9 Cluster Administration and Data Protection Bundle

This is a FLEX course.

Course language: English

Aug 14-18, 2017
Tampa, FL
Enroll for classroom training
Enroll for online training


Time zone: US/Eastern

NA-DATAPROT9
ONTAP 9 Data Protection Administration

This is a FLEX course.

Course language: English

Aug 17-18, 2017
Tampa, FL
Enroll for classroom training
Enroll for online training


Time zone: US/Eastern

NA-DATAPROT9
ONTAP 9 Data Protection Administration

This is a FLEX course.

Course language: English

Aug 17-18, 2017
Ottawa
Enroll for classroom training
Enroll for online training


Time zone: Canada/Eastern

NA-DATAPROT9
ONTAP 9 Data Protection Administration

This is a FLEX course.

Course language: English

Aug 17-18, 2017
New York, NY
Enroll for classroom training
Enroll for online training


Time zone: US/Eastern

NA-ONTAP9ADM
ONTAP 9 Cluster Administration

This is a FLEX course.

Course language: English

Aug 21-23, 2017
Houston, TX
Enroll for classroom training
Enroll for online training


Time zone: US/Central

NA-ONTAP9ADM
ONTAP 9 Cluster Administration

This is a FLEX course.

Course language: English

Aug 21-23, 2017
Phoenix/Tempe, AZ
Enroll for classroom training
Enroll for online training


Time zone: US/Arizona

NA-ONTAP9ADM
ONTAP 9 Cluster Administration

This is a FLEX course.

Course language: English

Aug 21-23, 2017
Reston, VA
Enroll for classroom training
Enroll for online training


Time zone: US/Eastern

NA-CDOTDP9
ONTAP 9 Cluster Administration and Data Protection Bundle

This is a FLEX course.

Course language: English

Aug 21-25, 2017
Phoenix/Tempe, AZ
Enroll for classroom training
Enroll for online training


Time zone: US/Arizona

NA-CDOTDP9
ONTAP 9 Cluster Administration and Data Protection Bundle

This is a FLEX course.

Course language: English

Aug 21-25, 2017
Reston, VA
Enroll for classroom training
Enroll for online training


Time zone: US/Eastern

NA-CDOTDP9
ONTAP 9 Cluster Administration and Data Protection Bundle

This is a FLEX course.

Course language: English

Aug 21-25, 2017
Houston, TX
Enroll for classroom training
Enroll for online training


Time zone: US/Central

NA-DATAPROT9
ONTAP 9 Data Protection Administration

This is a FLEX course.

Course language: English

Aug 24-25, 2017
Reston, VA
Enroll for classroom training
Enroll for online training


Time zone: US/Eastern

NA-DATAPROT9
ONTAP 9 Data Protection Administration

This is a FLEX course.

Course language: English

Aug 24-25, 2017
Houston, TX
Enroll for classroom training
Enroll for online training


Time zone: US/Central

NA-DATAPROT9
ONTAP 9 Data Protection Administration

This is a FLEX course.

Course language: English

Aug 24-25, 2017
Phoenix/Tempe, AZ
Enroll for classroom training
Enroll for online training


Time zone: US/Arizona

NA-D7ADM
Data ONTAP 7-Mode Administration

This is a FLEX course.

Course language: English

Aug 28-Sep 1, 2017
Sunnyvale/San Jose, CA
Enroll for classroom training
Enroll for online training


Time zone: US/Pacific

NA-ONTAP9ADM
ONTAP 9 Cluster Administration

This is a FLEX course.

Course language: English

Aug 28-30, 2017
Raleigh/Durham, NC
Enroll for classroom training
Enroll for online training


Time zone: US/Eastern

NA-CDOTDP9
ONTAP 9 Cluster Administration and Data Protection Bundle

This is a FLEX course.

Course language: English

Aug 28-Sep 1, 2017
Raleigh/Durham, NC
Enroll for classroom training
Enroll for online training


Time zone: US/Eastern

NA-AOCMCDOT
Administration of OnCommand Management Solutions for Clustered Data ONTAP

This is a FLEX course.

Course language: English

Aug 29-30, 2017
Raleigh/Durham, NC
Enroll for classroom training
Enroll for online training


Time zone: US/Eastern

NA-CCWWFA
Creating and Customizing Workflows Using OnCommand Workflow Automation

This is a FLEX course.

Course language: English

Aug 31-Sep 1, 2017
Raleigh/Durham, NC
Enroll for classroom training
Enroll for online training


Time zone: US/Eastern

NA-DATAPROT9
ONTAP 9 Data Protection Administration

This is a FLEX course.

Course language: English

Aug 31-Sep 1, 2017
Raleigh/Durham, NC
Enroll for classroom training
Enroll for online training


Time zone: US/Eastern

NA-ONTAP9ADM
ONTAP 9 Cluster Administration

This is a FLEX course.

Course language: English

Sep 11-13, 2017
Columbia, MD
Enroll for classroom training
Enroll for online training


Time zone: US/Eastern

NA-ONTAP9ADM
ONTAP 9 Cluster Administration

This is a FLEX course.

Course language: English

Sep 11-13, 2017
Irvine, CA
Enroll for classroom training
Enroll for online training


Time zone: US/Pacific

NA-CDOTDP9
ONTAP 9 Cluster Administration and Data Protection Bundle

This is a FLEX course.

Course language: English

Sep 11-15, 2017
Columbia, MD
Enroll for classroom training
Enroll for online training


Time zone: US/Eastern

NA-CDOTDP9
ONTAP 9 Cluster Administration and Data Protection Bundle

This is a FLEX course.

Course language: English

Sep 11-15, 2017
Irvine, CA
Enroll for classroom training
Enroll for online training


Time zone: US/Pacific

NA-DATAPROT9
ONTAP 9 Data Protection Administration

This is a FLEX course.

Course language: English

Sep 14-15, 2017
Columbia, MD
Enroll for classroom training
Enroll for online training


Time zone: US/Eastern

NA-DATAPROT9
ONTAP 9 Data Protection Administration

This is a FLEX course.

Course language: English

Sep 14-15, 2017
Irvine, CA
Enroll for classroom training
Enroll for online training


Time zone: US/Pacific

NA-ONTAP9ADM
ONTAP 9 Cluster Administration

This is a FLEX course.

Course language: English

Sep 18-20, 2017
Sunnyvale/San Jose, CA
Enroll for classroom training
Enroll for online training


Time zone: US/Pacific

NA-ONTAP9ADM
ONTAP 9 Cluster Administration

This is a FLEX course.

Course language: English

Sep 18-20, 2017
Boston, MA
Enroll for classroom training
Enroll for online training


Time zone: US/Eastern

NA-ONTAP9ADM
ONTAP 9 Cluster Administration

This is a FLEX course.

Course language: French

Sep 18-20, 2017
Montreal, QC
Enroll for classroom training
Enroll for online training


Time zone: Canada/Eastern

NA-CDOTDP9
ONTAP 9 Cluster Administration and Data Protection Bundle

This is a FLEX course.

Course language: French

Sep 18-22, 2017
Montreal, QC
Enroll for classroom training
Enroll for online training


Time zone: Canada/Eastern

NA-CDOTDP9
ONTAP 9 Cluster Administration and Data Protection Bundle

This is a FLEX course.

Course language: English

Sep 18-22, 2017
Sunnyvale/San Jose, CA
Enroll for classroom training
Enroll for online training


Time zone: US/Pacific

NA-CDOTDP9
ONTAP 9 Cluster Administration and Data Protection Bundle

This is a FLEX course.

Course language: English

Sep 18-22, 2017
Boston, MA
Enroll for classroom training
Enroll for online training


Time zone: US/Eastern

NA-DATAPROT9
ONTAP 9 Data Protection Administration

This is a FLEX course.

Course language: English

Sep 21-22, 2017
Boston, MA
Enroll for classroom training
Enroll for online training


Time zone: US/Eastern

NA-DATAPROT9
ONTAP 9 Data Protection Administration

This is a FLEX course.

Course language: French

Sep 21-22, 2017
Montreal, QC
Enroll for classroom training
Enroll for online training


Time zone: Canada/Eastern

NA-DATAPROT9
ONTAP 9 Data Protection Administration

This is a FLEX course.

Course language: English

Sep 21-22, 2017
Sunnyvale/San Jose, CA
Enroll for classroom training
Enroll for online training


Time zone: US/Pacific

NA-ONTAP9ADM
ONTAP 9 Cluster Administration

This is a FLEX course.

Course language: English

Sep 25-27, 2017
Cleveland, OH
Enroll for classroom training
Enroll for online training


Time zone: US/Eastern

NA-ONTAP9ADM
ONTAP 9 Cluster Administration

This is a FLEX course.

Course language: English

Sep 25-27, 2017
Philadelphia, PA
Enroll for classroom training
Enroll for online training


Time zone: US/Eastern

NA-CDOTDP9
ONTAP 9 Cluster Administration and Data Protection Bundle

This is a FLEX course.

Course language: English

Sep 25-29, 2017
Philadelphia, PA
Enroll for classroom training
Enroll for online training


Time zone: US/Eastern

NA-CDOTDP9
ONTAP 9 Cluster Administration and Data Protection Bundle

This is a FLEX course.

Course language: English

Sep 25-29, 2017
Cleveland, OH
Enroll for classroom training
Enroll for online training


Time zone: US/Eastern

NA-DATAPROT9
ONTAP 9 Data Protection Administration

This is a FLEX course.

Course language: English

Sep 28-29, 2017
Philadelphia, PA
Enroll for classroom training
Enroll for online training


Time zone: US/Eastern

NA-DATAPROT9
ONTAP 9 Data Protection Administration

This is a FLEX course.

Course language: English

Sep 28-29, 2017
Cleveland, OH
Enroll for classroom training
Enroll for online training


Time zone: US/Eastern

NA-ONTAP9ADM
ONTAP 9 Cluster Administration

This is a FLEX course.

Course language: English

Oct 2-4, 2017
Atlanta, GA
Enroll for classroom training
Enroll for online training


Time zone: US/Eastern

NA-ONTAP9ADM
ONTAP 9 Cluster Administration

This is a FLEX course.

Course language: English

Oct 2-4, 2017
Winnipeg
Enroll for classroom training
Enroll for online training


Time zone: Canada/Central

NA-CDOTDP9
ONTAP 9 Cluster Administration and Data Protection Bundle

This is a FLEX course.

Course language: English

Oct 2-6, 2017
Winnipeg
Enroll for classroom training
Enroll for online training


Time zone: Canada/Central

NA-CDOTDP9
ONTAP 9 Cluster Administration and Data Protection Bundle

This is a FLEX course.

Course language: English

Oct 2-6, 2017
Atlanta, GA
Enroll for classroom training
Enroll for online training


Time zone: US/Eastern

NA-DATAPROT9
ONTAP 9 Data Protection Administration

This is a FLEX course.

Course language: English

Oct 5-6, 2017
Winnipeg
Enroll for classroom training
Enroll for online training


Time zone: Canada/Central

NA-DATAPROT9
ONTAP 9 Data Protection Administration

This is a FLEX course.

Course language: English

Oct 5-6, 2017
Atlanta, GA
Enroll for classroom training
Enroll for online training


Time zone: US/Eastern

NA-ONTAP9ADM
ONTAP 9 Cluster Administration

This is a FLEX course.

Course language: English

Oct 9-11, 2017
Raleigh/Durham, NC
Enroll for classroom training
Enroll for online training


Time zone: US/Eastern

NA-ONTAP9ADM
ONTAP 9 Cluster Administration

This is a FLEX course.

Course language: English

Oct 9-11, 2017
Portland
Enroll for classroom training
Enroll for online training


Time zone: US/Pacific

NA-ONTAP9ADM
ONTAP 9 Cluster Administration

This is a FLEX course.

Course language: English

Oct 9-11, 2017
Chicago, IL
Enroll for classroom training
Enroll for online training


Time zone: US/Central

NA-CDOTDP9
ONTAP 9 Cluster Administration and Data Protection Bundle

This is a FLEX course.

Course language: English

Oct 9-13, 2017
Portland
Enroll for classroom training
Enroll for online training


Time zone: US/Pacific

NA-CDOTDP9
ONTAP 9 Cluster Administration and Data Protection Bundle

This is a FLEX course.

Course language: English

Oct 9-13, 2017
Chicago, IL
Enroll for classroom training
Enroll for online training


Time zone: US/Central

NA-CDOTDP9
ONTAP 9 Cluster Administration and Data Protection Bundle

This is a FLEX course.

Course language: English

Oct 9-13, 2017
Raleigh/Durham, NC
Enroll for classroom training
Enroll for online training


Time zone: US/Eastern

NA-DATAPROT9
ONTAP 9 Data Protection Administration

This is a FLEX course.

Course language: English

Oct 12-13, 2017
Portland
Enroll for classroom training
Enroll for online training


Time zone: US/Pacific

NA-DATAPROT9
ONTAP 9 Data Protection Administration

This is a FLEX course.

Course language: English

Oct 12-13, 2017
Chicago, IL
Enroll for classroom training
Enroll for online training


Time zone: US/Central

NA-DATAPROT9
ONTAP 9 Data Protection Administration

This is a FLEX course.

Course language: English

Oct 12-13, 2017
Raleigh/Durham, NC
Enroll for classroom training
Enroll for online training


Time zone: US/Eastern

NA-ONTAP9ADM
ONTAP 9 Cluster Administration

This is a FLEX course.

Course language: English

Oct 16-18, 2017
Los Angeles/El Segundo, CA
Enroll for classroom training
Enroll for online training


Time zone: US/Pacific

NA-ONTAP9ADM
ONTAP 9 Cluster Administration

This is a FLEX course.

Course language: English

Oct 16-18, 2017
Mississauga, Ontario
Enroll for classroom training
Enroll for online training


Time zone: Canada/Eastern

NA-CDOTDP9
ONTAP 9 Cluster Administration and Data Protection Bundle

This is a FLEX course.

Course language: English

Oct 16-20, 2017
Mississauga, Ontario
Enroll for classroom training
Enroll for online training


Time zone: Canada/Eastern

NA-CDOTDP9
ONTAP 9 Cluster Administration and Data Protection Bundle

This is a FLEX course.

Course language: English

Oct 16-20, 2017
Los Angeles/El Segundo, CA
Enroll for classroom training
Enroll for online training


Time zone: US/Pacific

NA-DATAPROT9
ONTAP 9 Data Protection Administration

This is a FLEX course.

Course language: English

Oct 19-20, 2017
Los Angeles/El Segundo, CA
Enroll for classroom training
Enroll for online training


Time zone: US/Pacific

NA-DATAPROT9
ONTAP 9 Data Protection Administration

This is a FLEX course.

Course language: English

Oct 19-20, 2017
Mississauga, Ontario
Enroll for classroom training
Enroll for online training


Time zone: Canada/Eastern

NA-PERFCDOT
Performance Analysis on Clustered Data ONTAP

This is a FLEX course.

Course language: English

Oct 19-20, 2017
Raleigh/Durham, NC
Enroll for classroom training
Enroll for online training


Time zone: US/Eastern

NA-ONTAP9ADM
ONTAP 9 Cluster Administration

This is a FLEX course.

Course language: English

Oct 23-25, 2017
San Diego, CA
Enroll for classroom training
Enroll for online training


Time zone: US/Pacific

NA-ONTAP9ADM
ONTAP 9 Cluster Administration

This is a FLEX course.

Course language: English

Oct 23-25, 2017
Tampa, FL
Enroll for classroom training
Enroll for online training


Time zone: US/Eastern

NA-CDOTDP9
ONTAP 9 Cluster Administration and Data Protection Bundle

This is a FLEX course.

Course language: English

Oct 23-27, 2017
San Diego, CA
Enroll for classroom training
Enroll for online training


Time zone: US/Pacific

NA-CDOTDP9
ONTAP 9 Cluster Administration and Data Protection Bundle

This is a FLEX course.

Course language: English

Oct 23-27, 2017
Tampa, FL
Enroll for classroom training
Enroll for online training


Time zone: US/Eastern

NA-DATAPROT9
ONTAP 9 Data Protection Administration

This is a FLEX course.

Course language: English

Oct 26-27, 2017
San Diego, CA
Enroll for classroom training
Enroll for online training


Time zone: US/Pacific

NA-DATAPROT9
ONTAP 9 Data Protection Administration

This is a FLEX course.

Course language: English

Oct 26-27, 2017
Tampa, FL
Enroll for classroom training
Enroll for online training


Time zone: US/Eastern

NA-ONTAP9ADM
ONTAP 9 Cluster Administration

This is a FLEX course.

Course language: English

Oct 30-Nov 1, 2017
Raleigh/Durham, NC
Enroll for classroom training
Enroll for online training


Time zone: US/Eastern

NA-ONTAP9ADM
ONTAP 9 Cluster Administration

This is a FLEX course.

Course language: English

Oct 30-Nov 1, 2017
Houston, TX
Enroll for classroom training
Enroll for online training


Time zone: US/Central

NA-ONTAP9ADM
ONTAP 9 Cluster Administration

This is a FLEX course.

Course language: English

Oct 30-Nov 1, 2017
Calgary, Alberta
Enroll for classroom training
Enroll for online training


Time zone: Canada/Mountain

NA-CDOTDP9
ONTAP 9 Cluster Administration and Data Protection Bundle

This is a FLEX course.

Course language: English

Oct 30-Nov 3, 2017
Raleigh/Durham, NC
Enroll for classroom training
Enroll for online training


Time zone: US/Eastern

NA-CDOTDP9
ONTAP 9 Cluster Administration and Data Protection Bundle

This is a FLEX course.

Course language: English

Oct 30-Nov 3, 2017
Houston, TX
Enroll for classroom training
Enroll for online training


Time zone: US/Central

NA-CDOTDP9
ONTAP 9 Cluster Administration and Data Protection Bundle

This is a FLEX course.

Course language: English

Oct 30-Nov 3, 2017
Calgary, Alberta
Enroll for classroom training
Enroll for online training


Time zone: Canada/Mountain

NA-DATAPROT9
ONTAP 9 Data Protection Administration

This is a FLEX course.

Course language: English

Nov 2-3, 2017
Raleigh/Durham, NC
Enroll for classroom training
Enroll for online training


Time zone: US/Eastern

NA-DATAPROT9
ONTAP 9 Data Protection Administration

This is a FLEX course.

Course language: English

Nov 2-3, 2017
Houston, TX
Enroll for classroom training
Enroll for online training


Time zone: US/Central

NA-DATAPROT9
ONTAP 9 Data Protection Administration

This is a FLEX course.

Course language: English

Nov 2-3, 2017
Calgary, Alberta
Enroll for classroom training
Enroll for online training


Time zone: Canada/Mountain

NA-D7ADM
Data ONTAP 7-Mode Administration

This is a FLEX course.

Course language: English

Nov 6-10, 2017
Raleigh/Durham, NC
Enroll for classroom training
Enroll for online training


Time zone: US/Eastern

NA-D7ADM
Data ONTAP 7-Mode Administration

This is a FLEX course.

Course language: English

Nov 6-10, 2017
Mississauga, Ontario
Enroll for classroom training
Enroll for online training


Time zone: Canada/Eastern

NA-ONTAP9ADM
ONTAP 9 Cluster Administration

This is a FLEX course.

Course language: English

Nov 6-8, 2017
Seattle/Bellevue, WA
Enroll for classroom training
Enroll for online training


Time zone: US/Pacific

NA-ONTAP9ADM
ONTAP 9 Cluster Administration

This is a FLEX course.

Course language: English

Nov 6-8, 2017
New York, NY
Enroll for classroom training
Enroll for online training


Time zone: US/Eastern

NA-ONTAP9ADM
ONTAP 9 Cluster Administration

This is a FLEX course.

Course language: English

Nov 6-8, 2017
Columbia, MD
Enroll for classroom training
Enroll for online training


Time zone: US/Eastern

NA-CDOTDP9
ONTAP 9 Cluster Administration and Data Protection Bundle

This is a FLEX course.

Course language: English

Nov 6-10, 2017
Columbia, MD
Enroll for classroom training
Enroll for online training


Time zone: US/Eastern

NA-CDOTDP9
ONTAP 9 Cluster Administration and Data Protection Bundle

This is a FLEX course.

Course language: English

Nov 6-10, 2017
Seattle/Bellevue, WA
Enroll for classroom training
Enroll for online training


Time zone: US/Pacific

NA-CDOTDP9
ONTAP 9 Cluster Administration and Data Protection Bundle

This is a FLEX course.

Course language: English

Nov 6-10, 2017
New York, NY
Enroll for classroom training
Enroll for online training


Time zone: US/Eastern

NA-DATAPROT9
ONTAP 9 Data Protection Administration

This is a FLEX course.

Course language: English

Nov 9-10, 2017
New York, NY
Enroll for classroom training
Enroll for online training


Time zone: US/Eastern

NA-DATAPROT9
ONTAP 9 Data Protection Administration

This is a FLEX course.

Course language: English

Nov 9-10, 2017
Columbia, MD
Enroll for classroom training
Enroll for online training


Time zone: US/Eastern

NA-DATAPROT9
ONTAP 9 Data Protection Administration

This is a FLEX course.

Course language: English

Nov 9-10, 2017
Seattle/Bellevue, WA
Enroll for classroom training
Enroll for online training


Time zone: US/Pacific

NA-ONTAP9ADM
ONTAP 9 Cluster Administration

This is a FLEX course.

Course language: English

Nov 13-15, 2017
Reston, VA
Enroll for classroom training
Enroll for online training


Time zone: US/Eastern

NA-ONTAP9ADM
ONTAP 9 Cluster Administration

This is a FLEX course.

Course language: English

Nov 13-15, 2017
Minneapolis, MN
Enroll for classroom training
Enroll for online training


Time zone: US/Central

NA-CDOTDP9
ONTAP 9 Cluster Administration and Data Protection Bundle

This is a FLEX course.

Course language: English

Nov 13-17, 2017
Reston, VA
Enroll for classroom training
Enroll for online training


Time zone: US/Eastern

NA-CDOTDP9
ONTAP 9 Cluster Administration and Data Protection Bundle

This is a FLEX course.

Course language: English

Nov 13-17, 2017
Minneapolis, MN
Enroll for classroom training
Enroll for online training


Time zone: US/Central

NA-DATAPROT9
ONTAP 9 Data Protection Administration

This is a FLEX course.

Course language: English

Nov 16-17, 2017
Reston, VA
Enroll for classroom training
Enroll for online training


Time zone: US/Eastern

NA-DATAPROT9
ONTAP 9 Data Protection Administration

This is a FLEX course.

Course language: English

Nov 16-17, 2017
Minneapolis, MN
Enroll for classroom training
Enroll for online training


Time zone: US/Central

NA-ONTAP9ADM
ONTAP 9 Cluster Administration

This is a FLEX course.

Course language: English

Nov 20-22, 2017
Vancouver
Enroll for classroom training
Enroll for online training


Time zone: Canada/Pacific

NA-CDOTDP9
ONTAP 9 Cluster Administration and Data Protection Bundle

This is a FLEX course.

Course language: English

Nov 20-24, 2017
Vancouver
Enroll for classroom training
Enroll for online training


Time zone: Canada/Pacific

NA-DATAPROT9
ONTAP 9 Data Protection Administration

This is a FLEX course.

Course language: English

Nov 23-24, 2017
Vancouver
Enroll for classroom training
Enroll for online training


Time zone: Canada/Pacific

NA-OCIIO
OnCommand Insight: Intelligent Operation

This is a FLEX course.

Course language: English

Nov 27-28, 2017
Raleigh/Durham, NC
Enroll for classroom training
Enroll for online training


Time zone: US/Eastern

NA-ONTAP9ADM
ONTAP 9 Cluster Administration

This is a FLEX course.

Course language: English

Nov 27-29, 2017
Dallas, TX
Enroll for classroom training
Enroll for online training


Time zone: US/Central

NA-ONTAP9ADM
ONTAP 9 Cluster Administration

This is a FLEX course.

Course language: English

Nov 27-29, 2017
Boston, MA
Enroll for classroom training
Enroll for online training


Time zone: US/Eastern

NA-ONTAP9ADM
ONTAP 9 Cluster Administration

This is a FLEX course.

Course language: English

Nov 27-29, 2017
Irvine, CA
Enroll for classroom training
Enroll for online training


Time zone: US/Pacific

NA-CDOTDP9
ONTAP 9 Cluster Administration and Data Protection Bundle

This is a FLEX course.

Course language: English

Nov 27-Dec 1, 2017
Boston, MA
Enroll for classroom training
Enroll for online training


Time zone: US/Eastern

NA-CDOTDP9
ONTAP 9 Cluster Administration and Data Protection Bundle

This is a FLEX course.

Course language: English

Nov 27-Dec 1, 2017
Irvine, CA
Enroll for classroom training
Enroll for online training


Time zone: US/Pacific

NA-CDOTDP9
ONTAP 9 Cluster Administration and Data Protection Bundle

This is a FLEX course.

Course language: English

Nov 27-Dec 1, 2017
Dallas, TX
Enroll for classroom training
Enroll for online training


Time zone: US/Central

NA-DATAPROT9
ONTAP 9 Data Protection Administration

This is a FLEX course.

Course language: English

Nov 30-Dec 1, 2017
Dallas, TX
Enroll for classroom training
Enroll for online training


Time zone: US/Central

NA-DATAPROT9
ONTAP 9 Data Protection Administration

This is a FLEX course.

Course language: English

Nov 30-Dec 1, 2017
Boston, MA
Enroll for classroom training
Enroll for online training


Time zone: US/Eastern

NA-DATAPROT9
ONTAP 9 Data Protection Administration

This is a FLEX course.

Course language: English

Nov 30-Dec 1, 2017
Irvine, CA
Enroll for classroom training
Enroll for online training


Time zone: US/Pacific

NA-ONTAP9ADM
ONTAP 9 Cluster Administration

This is a FLEX course.

Course language: English

Dec 4-6, 2017
Sunnyvale/San Jose, CA
Enroll for classroom training
Enroll for online training


Time zone: US/Pacific

NA-ONTAP9ADM
ONTAP 9 Cluster Administration

This is a FLEX course.

Course language: English

Dec 4-6, 2017
Raleigh/Durham, NC
Enroll for classroom training
Enroll for online training


Time zone: US/Eastern

NA-CDOTDP9
ONTAP 9 Cluster Administration and Data Protection Bundle

This is a FLEX course.

Course language: English

Dec 4-8, 2017
Sunnyvale/San Jose, CA
Enroll for classroom training
Enroll for online training


Time zone: US/Pacific

NA-CDOTDP9
ONTAP 9 Cluster Administration and Data Protection Bundle

This is a FLEX course.

Course language: English

Dec 4-8, 2017
Raleigh/Durham, NC
Enroll for classroom training
Enroll for online training


Time zone: US/Eastern

NA-DATAPROT9
ONTAP 9 Data Protection Administration

This is a FLEX course.

Course language: English

Dec 7-8, 2017
Sunnyvale/San Jose, CA
Enroll for classroom training
Enroll for online training


Time zone: US/Pacific

NA-DATAPROT9
ONTAP 9 Data Protection Administration

This is a FLEX course.

Course language: English

Dec 7-8, 2017
Raleigh/Durham, NC
Enroll for classroom training
Enroll for online training


Time zone: US/Eastern

NA-ONTAP9ADM
ONTAP 9 Cluster Administration

This is a FLEX course.

Course language: English

Dec 11-13, 2017
Mississauga, Ontario
Enroll for classroom training
Enroll for online training


Time zone: Canada/Eastern

NA-ONTAP9ADM
ONTAP 9 Cluster Administration

This is a FLEX course.

Course language: English

Dec 11-13, 2017
Denver, CO
Enroll for classroom training
Enroll for online training


Time zone: US/Mountain

NA-ONTAP9ADM
ONTAP 9 Cluster Administration

This is a FLEX course.

Course language: English

Dec 11-13, 2017
Edison/Morristown, NJ
Enroll for classroom training
Enroll for online training


Time zone: US/Eastern

NA-CDOTDP9
ONTAP 9 Cluster Administration and Data Protection Bundle

This is a FLEX course.

Course language: English

Dec 11-15, 2017
Edison/Morristown, NJ
Enroll for classroom training
Enroll for online training


Time zone: US/Eastern

NA-CDOTDP9
ONTAP 9 Cluster Administration and Data Protection Bundle

This is a FLEX course.

Course language: English

Dec 11-15, 2017
Mississauga, Ontario
Enroll for classroom training
Enroll for online training


Time zone: Canada/Eastern

NA-CDOTDP9
ONTAP 9 Cluster Administration and Data Protection Bundle

This is a FLEX course.

Course language: English

Dec 11-15, 2017
Denver, CO
Enroll for classroom training
Enroll for online training


Time zone: US/Mountain

NA-OCADM
NetApp OnCommand Unified Manager Administration

This is a FLEX course.

Course language: English

Dec 12-15, 2017
Raleigh/Durham, NC
Enroll for classroom training
Enroll for online training


Time zone: US/Eastern

NA-DATAPROT9
ONTAP 9 Data Protection Administration

This is a FLEX course.

Course language: English

Dec 14-15, 2017
Denver, CO
Enroll for classroom training
Enroll for online training


Time zone: US/Mountain

NA-DATAPROT9
ONTAP 9 Data Protection Administration

This is a FLEX course.

Course language: English

Dec 14-15, 2017
Edison/Morristown, NJ
Enroll for classroom training
Enroll for online training


Time zone: US/Eastern

NA-DATAPROT9
ONTAP 9 Data Protection Administration

This is a FLEX course.

Course language: English

Dec 14-15, 2017
Mississauga, Ontario
Enroll for classroom training
Enroll for online training


Time zone: Canada/Eastern




VMware

VM-VICM6.5
VMware vSphere: Install, Configure, Manage [V6.5]

This is a FLEX course.

Course language: English

May 15-19, 2017
Raleigh/Durham, NC
Enroll for classroom training
Enroll for online training


Time zone: US/Eastern

VM-VICM6.5
VMware vSphere: Install, Configure, Manage [V6.5]

This is a FLEX course.

Course language: English

Jun 12-16, 2017
Phoenix
Enroll for classroom training
Enroll for online training


Time zone: US/Arizona

VM-VICM6.5
VMware vSphere: Install, Configure, Manage [V6.5]

This is a FLEX course.

Course language: English

Jun 26-30, 2017
Raleigh/Durham, NC
Enroll for classroom training
Enroll for online training


Time zone: US/Eastern

VM-VICM6.5
VMware vSphere: Install, Configure, Manage [V6.5]

This is a FLEX course.

Course language: English

Jul 24-28, 2017
Raleigh/Durham, NC
Enroll for classroom training
Enroll for online training


Time zone: US/Eastern

VM-VICM6.5
VMware vSphere: Install, Configure, Manage [V6.5]

This is a FLEX course.

Course language: English

Aug 14-18, 2017
Raleigh/Durham, NC
Enroll for classroom training
Enroll for online training


Time zone: US/Eastern

VM-VICM6.5
VMware vSphere: Install, Configure, Manage [V6.5]

This is a FLEX course.

Course language: English

Sep 25-29, 2017
Raleigh/Durham, NC
Enroll for classroom training
Enroll for online training


Time zone: US/Eastern

VM-VICM6.5
VMware vSphere: Install, Configure, Manage [V6.5]

This is a FLEX course.

Course language: English

Oct 16-20, 2017
Raleigh/Durham, NC
Enroll for classroom training
Enroll for online training


Time zone: US/Eastern

VM-VICM6.5
VMware vSphere: Install, Configure, Manage [V6.5]

This is a FLEX course.

Course language: English

Nov 6-10, 2017
Raleigh/Durham, NC
Enroll for classroom training
Enroll for online training


Time zone: US/Eastern

VM-VICM6.5
VMware vSphere: Install, Configure, Manage [V6.5]

This is a FLEX course.

Course language: English

Dec 4-8, 2017
Raleigh/Durham, NC
Enroll for classroom training
Enroll for online training


Time zone: US/Eastern




Red Hat

RH-RH199
RHCSA Rapid Track Course

This is a FLEX course.

Course language: English

Jun 12-15, 2017
Leawood, KS
Enroll for classroom training
Enroll for online training


Time zone: US/Central

RH-RH124
Red Hat System Administration I

This is a FLEX course.

Course language: English

Aug 14-18, 2017
Leawood, KS
Enroll for classroom training
Enroll for online training


Time zone: US/Central

RH-RH199
RHCSA Rapid Track Course

This is a FLEX course.

Course language: English

Aug 28-31, 2017
Kansas City, KS
Enroll for classroom training
Enroll for online training


Time zone: US/Central

RH-RH124
Red Hat System Administration I

This is a FLEX course.

Course language: English

Oct 2-6, 2017
Leawood, KS
Enroll for classroom training
Enroll for online training


Time zone: US/Central




Citrix

CX-CMB-300
Deploy and Manage Citrix XenApp/XenDesktop 7.6 Fast Track

This is a FLEX course.

Course language: English

May 1-5, 2017
Mississauga, ON
Enroll for classroom training
Enroll for online training


Time zone: Canada/Central

CX-CNS-220
Citrix NetScaler Essentials and Traffic Management

This is a FLEX course.

Course language: English

May 8-12, 2017
Mississauga, ON
Enroll for classroom training
Enroll for online training


Time zone: Canada/Central

CX-CNS-222
Citrix NetScaler Essentials and Unified Gateway

This is a FLEX course.

Course language: English

May 8-12, 2017
Mississauga, ON
Enroll for classroom training
Enroll for online training


Time zone: Canada/Central

CX-CXD-210
Citrix XenApp and XenDesktop 7.1x Administration

This is a FLEX course.

Course language: English

May 15-19, 2017
Mississauga, ON
Enroll for classroom training
Enroll for online training


Time zone: Canada/Central

CX-CXD-330
XenApp and XenDesktop Advanced Optimization and Troubleshooting

This is a FLEX course.

Course language: English

May 23-25, 2017
Mississauga, ON
Enroll for classroom training
Enroll for online training


Time zone: Canada/Central

CX-CNS-320
Citrix NetScaler Advanced Topics - Security, Management, and Optimization

This is a FLEX course.

Course language: English

Jun 5-9, 2017
Mississauga, ON
Enroll for classroom training
Enroll for online training


Time zone: Canada/Central

CX-CNS-220
Citrix NetScaler Essentials and Traffic Management

This is a FLEX course.

Course language: English

Jun 5-9, 2017
Mississauga, ON
Enroll for classroom training
Enroll for online training


Time zone: Canada/Central

CX-CXD-210
Citrix XenApp and XenDesktop 7.1x Administration

This is a FLEX course.

Course language: English

Jun 12-16, 2017
Mississauga, ON
Enroll for classroom training
Enroll for online training


Time zone: Canada/Central

CX-CXD-330
XenApp and XenDesktop Advanced Optimization and Troubleshooting

This is a FLEX course.

Course language: English

Jun 26-28, 2017
Mississauga, ON
Enroll for classroom training
Enroll for online training


Time zone: Canada/Central




Amazon Web Services

AW-AWSSO
Security Operations on AWS

This is a FLEX course.

Course language: English

May 24-26, 2017
Herndon/Reston, VA
Enroll for classroom training
Enroll for online training


Time zone: US/Eastern

AW-AWSSO
Security Operations on AWS

This is a FLEX course.

Course language: English

Jun 5-7, 2017
San Francisco, CA
Enroll for classroom training
Enroll for online training


Time zone: US/Pacific

AW-AWSSO
Security Operations on AWS

This is a FLEX course.

Course language: English

Jul 25-27, 2017
Chicago, IL
Enroll for classroom training
Enroll for online training


Time zone: US/Central

AW-AWSSO
Security Operations on AWS

This is a FLEX course.

Course language: English

Aug 15-17, 2017
San Francisco, CA
Enroll for classroom training
Enroll for online training


Time zone: US/Pacific

AW-AWSSO
Security Operations on AWS

This is a FLEX course.

Course language: English

Sep 26-28, 2017
Time Zone: US/Central
Enroll for classroom training
Enroll for online training


Time zone: US/Central

AW-AWSSO
Security Operations on AWS

This is a FLEX course.

Course language: English

Oct 17-19, 2017
Herndon/Reston, VA
Enroll for classroom training
Enroll for online training


Time zone: US/Eastern




Riverbed

RB-WAN200
Optimization Essentials

This is a FLEX course.

Course language: English

Jun 5-9, 2017
Toronto, ON
Enroll for classroom training
Enroll for online training


Time zone: Canada/Eastern

RB-WAN200
Optimization Essentials

This is a FLEX course.

Course language: English

Sep 25-29, 2017
Toronto, ON
Enroll for classroom training
Enroll for online training


Time zone: Canada/Eastern

RB-NPM200
Network Performance Management Essentials

This is a FLEX course.

Course language: English

Oct 30-Nov 3, 2017
Toronto, ON
Enroll for classroom training
Enroll for online training


Time zone: Canada/Eastern




Security Courses

F5-LTMADM
Administering BIG-IP® v11

This is a FLEX course.

Course language: English

May 15-16, 2017
Bellevue, WA
Enroll for classroom training
Enroll for online training


Time zone: US/Pacific

F5-LTMADM
Administering BIG-IP® v11

This is a FLEX course.

Course language: English

Jun 5-6, 2017
Bellevue, WA
Enroll for classroom training
Enroll for online training


Time zone: US/Pacific

F5-LTMADM
Administering BIG-IP® v11

This is a FLEX course.

Course language: English

Jun 26-27, 2017
Bellevue, WA
Enroll for classroom training
Enroll for online training


Time zone: US/Pacific

JP-IJOS
Introduction to the Operating System

This is a FLEX course.

Course language: English

Jul 17-19, 2017
Phoenix/Tempe, AZ
Enroll for classroom training
Enroll for online training


Time zone: US/Arizona

JP-IJOS
Introduction to the Operating System

This is a FLEX course.

Course language: English

Jul 31-Aug 2, 2017
Phoenix/Tempe, AZ
Enroll for classroom training
Enroll for online training


Time zone: US/Arizona

JP-IJOS
Introduction to the Operating System

This is a FLEX course.

Course language: English

Aug 14-16, 2017
Phoenix/Tempe, AZ
Enroll for classroom training
Enroll for online training


Time zone: US/Arizona

JP-CJFV
Configuring Juniper Networks Firewall/IPSec VPN Products

This is a FLEX course.

Course language: English

Aug 28-30, 2017
Phoenix/Tempe, AZ
Enroll for classroom training
Enroll for online training


Time zone: US/Arizona

JP-AJVI
Advanced Juniper Networks IPSec VPN Implementations

This is a FLEX course.

Course language: English

Aug 31-Sep 1, 2017
Phoenix/Tempe, AZ
Enroll for classroom training
Enroll for online training


Time zone: US/Arizona




Juniper Networks

JP-JL2V
Junos Layer 2 VPNs

This is a FLEX course.

Course language: English

May 4-5, 2017
Raleigh, NC
Enroll for classroom training
Enroll for online training


Time zone: US/Eastern

JP-JL2V
Junos Layer 2 VPNs

This is a FLEX course.

Course language: English

May 4-5, 2017
Phoenix/Tempe, AZ
Enroll for classroom training
Enroll for online training


Time zone: US/Arizona

JP-JNCIS-ENTBC
Enterprise Networking Certification Boot Camp - JNCIA & JNCIS

This is a FLEX course.

Course language: English

May 15-19, 2017
Phoenix/Tempe, AZ
Enroll for classroom training
Enroll for online training


Time zone: US/Arizona

JP-JIR
JUNOS Intermediate Routing

This is a FLEX course.

Course language: English

May 15-16, 2017
Phoenix/Tempe, AZ
Enroll for classroom training
Enroll for online training


Time zone: US/Arizona

JP-JMF
Junos MPLS Fundamentals

This is a FLEX course.

Course language: English

May 22-23, 2017
Raleigh, NC
Enroll for classroom training
Enroll for online training


Time zone: US/Eastern

JP-JMF
Junos MPLS Fundamentals

This is a FLEX course.

Course language: English

May 22-23, 2017
Phoenix/Tempe, AZ
Enroll for classroom training
Enroll for online training


Time zone: US/Arizona

JP-JL3V
Junos Layer 3 VPNs

This is a FLEX course.

Course language: English

May 24-26, 2017
Raleigh, NC
Enroll for classroom training
Enroll for online training


Time zone: US/Eastern

JP-JL3V
Junos Layer 3 VPNs

This is a FLEX course.

Course language: English

May 24-26, 2017
Phoenix/Tempe, AZ
Enroll for classroom training
Enroll for online training


Time zone: US/Arizona

JP-JL2V
Junos Layer 2 VPNs

This is a FLEX course.

Course language: English

May 29-30, 2017
Raleigh, NC
Enroll for classroom training
Enroll for online training


Time zone: US/Eastern

JP-JL2V
Junos Layer 2 VPNs

This is a FLEX course.

Course language: English

May 29-30, 2017
Phoenix/Tempe, AZ
Enroll for classroom training
Enroll for online training


Time zone: US/Arizona

JP-JNCIS-ENTBC
Enterprise Networking Certification Boot Camp - JNCIA & JNCIS

This is a FLEX course.

Course language: English

Jun 12-16, 2017
Phoenix/Tempe, AZ
Enroll for classroom training
Enroll for online training


Time zone: US/Arizona

JP-JSM
Junos Subscriber Management

This is a FLEX course.

Course language: English

Jul 5-7, 2017
Phoenix/Tempe, AZ
Enroll for classroom training
Enroll for online training


Time zone: US/Arizona

JP-JTNOC
Junos Troubleshooting in the NOC

This is a FLEX course.

Course language: English

Jul 5-7, 2017
Phoenix/Tempe, AZ
Enroll for classroom training
Enroll for online training


Time zone: US/Arizona

JP-JSE
Junos Space Essentials

This is a FLEX course.

Course language: English

Jul 6-7, 2017
Phoenix/Tempe, AZ
Enroll for classroom training
Enroll for online training


Time zone: US/Arizona

JP-JIR
JUNOS Intermediate Routing

This is a FLEX course.

Course language: English

Jul 10-11, 2017
Phoenix/Tempe, AZ
Enroll for classroom training
Enroll for online training


Time zone: US/Arizona

JP-JMF
Junos MPLS Fundamentals

This is a FLEX course.

Course language: English

Jul 10-11, 2017
Phoenix/Tempe, AZ
Enroll for classroom training
Enroll for online training


Time zone: US/Arizona

JP-JL3V
Junos Layer 3 VPNs

This is a FLEX course.

Course language: English

Jul 12-14, 2017
Phoenix/Tempe, AZ
Enroll for classroom training
Enroll for online training


Time zone: US/Arizona

JP-JSPX
Junos Service Provider Switching

This is a FLEX course.

Course language: English

Jul 17-18, 2017
Phoenix/Tempe, AZ
Enroll for classroom training
Enroll for online training


Time zone: US/Arizona

JP-JIR
JUNOS Intermediate Routing

This is a FLEX course.

Course language: English

Jul 19-20, 2017
Phoenix/Tempe, AZ
Enroll for classroom training
Enroll for online training


Time zone: US/Arizona

JP-JL2V
Junos Layer 2 VPNs

This is a FLEX course.

Course language: English

Jul 20-21, 2017
Phoenix/Tempe, AZ
Enroll for classroom training
Enroll for online training


Time zone: US/Arizona

JP-JSM
Junos Subscriber Management

This is a FLEX course.

Course language: English

Jul 24-26, 2017
Phoenix/Tempe, AZ
Enroll for classroom training
Enroll for online training


Time zone: US/Arizona

JP-JSE
Junos Space Essentials

This is a FLEX course.

Course language: English

Jul 31-Aug 1, 2017
Phoenix/Tempe, AZ
Enroll for classroom training
Enroll for online training


Time zone: US/Arizona

JP-JS-SD
Junos Space - Security Director

This is a FLEX course.

Course language: English

Aug 2-3, 2017
Phoenix/Tempe, AZ
Enroll for classroom training
Enroll for online training


Time zone: US/Arizona

JP-JTNOC
Junos Troubleshooting in the NOC

This is a FLEX course.

Course language: English

Aug 2-4, 2017
Phoenix/Tempe, AZ
Enroll for classroom training
Enroll for online training


Time zone: US/Arizona

JP-JS-ND
Junos Space - Network Director

This is a FLEX course.

Course language: English

Aug 4, 2017
Phoenix/Tempe, AZ
Enroll for classroom training
Enroll for online training


Time zone: US/Arizona

JP-JNCIS-ENTBC
Enterprise Networking Certification Boot Camp - JNCIA & JNCIS

This is a FLEX course.

Course language: English

Aug 7-11, 2017
Phoenix/Tempe, AZ
Enroll for classroom training
Enroll for online training


Time zone: US/Arizona

JP-JMF
Junos MPLS Fundamentals

This is a FLEX course.

Course language: English

Aug 7-8, 2017
Phoenix/Tempe, AZ
Enroll for classroom training
Enroll for online training


Time zone: US/Arizona

JP-JL3V
Junos Layer 3 VPNs

This is a FLEX course.

Course language: English

Aug 9-11, 2017
Phoenix/Tempe, AZ
Enroll for classroom training
Enroll for online training


Time zone: US/Arizona

JP-JCOS
Junos Class of Service

This is a FLEX course.

Course language: English

Aug 14-15, 2017
Phoenix/Tempe, AZ
Enroll for classroom training
Enroll for online training


Time zone: US/Arizona

JP-JSM
Junos Subscriber Management

This is a FLEX course.

Course language: English

Aug 21-23, 2017
Phoenix/Tempe, AZ
Enroll for classroom training
Enroll for online training


Time zone: US/Arizona

JP-JSE
Junos Space Essentials

This is a FLEX course.

Course language: English

Aug 28-29, 2017
Phoenix/Tempe, AZ
Enroll for classroom training
Enroll for online training


Time zone: US/Arizona

JP-JTNOC
Junos Troubleshooting in the NOC

This is a FLEX course.

Course language: English

Aug 28-30, 2017
Phoenix/Tempe, AZ
Enroll for classroom training
Enroll for online training


Time zone: US/Arizona

JP-JS-SD
Junos Space - Security Director

This is a FLEX course.

Course language: English

Aug 30-31, 2017
Phoenix/Tempe, AZ
Enroll for classroom training
Enroll for online training


Time zone: US/Arizona

JP-JS-ND
Junos Space - Network Director

This is a FLEX course.

Course language: English

Sep 1, 2017
Phoenix/Tempe, AZ
Enroll for classroom training
Enroll for online training


Time zone: US/Arizona