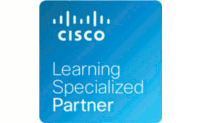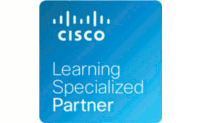 Implementing Cisco Data Center Unified Fabric (DCUFI)
About this Course
Overview des produits Cisco Nexus
Architecture de réseau Cisco Data Center
Identification des produits Cisco Nexus
Identification de la solution Cisco Unified Fabric
Configuration des fonctionnalités des switchs Cisco Nexus
Compréhension de la haute disponibilité et la redondance
Configuration des Virtual Device Contexts
Configuration des fonctionnalités switching de niveau 2
Configuration de PortChannels
Implementation des Cisco FabricPath
Configuration des fonctionnalités switching de niveau 3
Configuration de IP Multicast
Configuration des fonctionnalités avancées des switchs Cisco Nexus
Compréhension de Overlay Transport Virtualization
Configuration de MPLS
Configuration de LISP
Configurer la Quality of Service (QoS)
Configuration des fonctionnalités de Securité
Fonctionnalités de stockage Cisco Nexus
Compréhension du protocole Fibre Channel
Compréhension du protocole FCoE
Identification des Data Center Bridging Enhancements
Configuration de FCoE
Configuration de NPV Mode
Utilisation des outils d'administration SAN
Gestion des switchs de la série Cisco Nexus
Utilisation du Connectivity Management Processor
Configuration de l'administration utilisateur
Compréhension du management System
Course Labs
Lab: Configuration du switching de niveau 2
Lab: Configuration des vPCs
Lab: Configuration de Cisco FabricPath
Lab: Configuration du switching de niveau 3
Lab: Configuration OTV
Lab: Configuration de la QoS
Lab: Configuration des fonctionnalités de sécurité
Lab: Configuration de FCoE
Lab: Configuration de NPV
Lab: Configuration du management système
Lab: Implementation du DCNM Cisco pour LAN
A qui s'adresse cette formation
Aux administrateurs réseaux
Aux ingénieurs ou architectes réseaux
Toutes personnes en charge de l'installation, de la mise en œuvre et de l'administration des produits Cisco Nexus dans un Data Center.
Certifications
Cette formation fait partie de la certification:
Class Prerequisites
Posséder de solides connaissances sur le protocole Fiber Channel et l'environnement SAN
Bonne compréhension des protocoles réseaux
Avoir suivi la formation Cisco Implementing Cisco Storage Network Solutions (ICSNS) – (recommandé)
Posséder les certifications CCNA ou CCNA Data Center
What You Will Learn
La formation Implementing Cisco Data Center Unified Fabric v4.0 couvre l'acquisition des compétences nécessaires à l'installation, la configuration et la gestion des produits Cisco Nexus 7000, 5000, 2000 ainsi que des switchs de la série MDS dans un environnement réseau et SAN. A l'issue de cette formation, le stagiaire sera en mesure de :
Déterminer la gamme de produits Cisco Nexus, en particulier les châssis et composants des switchs Cisco Nexus 7000 et 5000, ainsi que les Fabric Extender Cisco Nexus 2000.
Implémenter les produits Cisco Nexus au sein d'un environnement Cisco Data Center Business Advantage.
Au sein d'un environnement donné, organiser et mettre en œuvre les Virtual Device Contexts adaptés à la solution.
Contrôler les fonctionnalités de sécurité disponibles sur les switchs Cisco Nexus 7000 et distinguer les fonctionnalités pertinentes dans un contexte donné.
Contrôler et paramétrer le Connectivity Management Processor sur les switchs Nexus Cisco 7000 et distinguer les options possibles.
Contrôler le niveau de haute disponibilité des switchs Cisco Nexus service et savoir utiliser le IOS In-Service Software Upgrade.
Connaitre le Fibre Channel protocole dont l'adressage, le contrôle des flux et le zoning.
Convertir un design donné en plan de mise en œuvre pour configurer le Fibre Channel avec Ethernet sur les switchs Cisco Nexus.
Assimiler les processus, les outils et ressources pour dépanner un problème sur l'infrastructure du data center, l'interconnectivité et les opérations.
Follow On Courses
Classroom training
Durée 5 jours
Prix
Canada:

CAD 4 195,-

Cisco Learning Credits:

40 CLC
Dates and Booking
Formation en ligne
Durée 5 jours
Prix
Canada:

CAD 4 195,-

Cisco Learning Credits:

40 CLC
Dates and Booking
pointer une ville pour s'enregistrer
Agenda
This is an Instructor-Led Classroom course
Cours en ligne avec instructeur
Formation en mode FLEX™.
Latin America
Costa Rica
Oct 23-27, 2017

Formation en ligne

Time zone: America/Costa_Rica

Enroll
Moyen-Orient