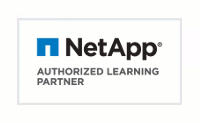 ONTAP Cluster Administration plus Integrating Hybrid Cloud w/NetApp Data Fabric BootCamp (ONTAP9ADM+INTHCDF)
Course Overview
This five-day boot camp instructor-led course, combines ONTAP9ADM with Integrating Hybrid Cloud with NetApp Data Fabric (INTHCDF). You use the cluster shell and ONTAP System Manager to manage storage and network resources. ONTAP Cluster Administration is an intermediate course in a comprehensive learning path for NetApp customers, partners, and employees.
In the hybrid cloud solution, you learn how to connect hyperscalers and on-premises data centers. You also learn about various NetApp Cloud Data Services, including Cloud Volumes, Cloud Volumes ONTAP, Cloud Sync and Cloud Insights and how they operate in the Data Fabric. You get hands on experience with Cloud Volumes ONTAP, Cloud Sync and Cloud Volumes, as well as with the AWS and Azure clouds.
NOTE: In ONTAP 9.7, NetApp has released enhancements in Data Protection and Encryption, storage efficiency, hardware support, networking and security protocols, REST API's and much more. Fast Lane has added this content to the current ONTAP 9.6 Administration class to ensure you are getting the most up-to-date training available.
Who should attend
Network Engineers
Channel Partners
System Engineers
NetApp Customers
Prerequisites
Basic networking knowledge
Cloud Volumes ONTAP Fundamentals
Course Objectives
ONTAP9ADM Course Objectives:
Manage ONTAP administrators
Configure and manage storage resources
Configure and manage networking resources
Create and configure a storage virtual machine (SVM)
Create and manage FlexVol volumes
Implement storage efficiency features
Create protocol servers within an SVM
Configure basic data protection features
Perform administrative and preventive maintenance tasks
INTHCDF Course Objectives:
Describe the Data Fabric vision.
Explain the hierarchy and functionality of Cloud Data Services.
Describe use cases for Cloud Volumes ONTAP, Cloud Sync and Cloud Volumes Service.
Configure an AWS Virtual Private Cloud (VPC) and connect it to an on-premises data center using VPN IPSec.
Configure an Azure Virtual Network (VNet) and connect it to an on-premises data center using VPN IPSec
Leveraging Cloud Central, install OnCommand Cloud Manager (OCCM) to deploy Cloud Volumes ONTAP and to manage and move data in the Data Fabric.
Describe Cloud Volumes ONTAP HA functionality.
Implement data tiering to AWS S3 for Cloud Volumes ONTAP.
Implement Cloud Sync service to enable seamless and secure synchronization of data between on-premises storage and AWS Simple Storage Service (S3).
Implement the Cloud Volumes service, including mounting, providing data access, restoring data and using APIs to manage Cloud Volumes.
Outline: ONTAP Cluster Administration plus Integrating Hybrid Cloud w/NetApp Data Fabric BootCamp (ONTAP9ADM+INTHCDF)
ONTAP9ADM OUTLINE: Module 1: NetApp ONTAP 9 Clusters
ONTAP deployment options
The cluster
SVMs
ONTAP select learning resources
NetApp cloud volumes learning resources
Module 2: Cluster Setup
Supported FAS and AFF configurations
Cluster setup
Administration interfaces
OnCommand System Manager: Guided cluster setup
Module 3: Cluster Management
Manage access control
Cluster node date and time
ONTAP software licenses
Manage jobs and schedules
Module 4: Network Management
NetApp ONTAP Network Review
Network ports
Network traffic segregation
LIFs
Nondisruptive LIF configuration
Routing management
Failover group commands
Routing management commands
BGP and VIP LIFs
Module 5: Physical Storage Management
Drives, RAID and aggregates
Advanced drive portioning
Flash cache and flash pool features
FabricPool aggregates
FabricPool in OnCommand System Manager
Module 6: Logical Storage Management
Flexible volumes
Provisioning storage resources
Moving storage resources
FlexGroup and FlexCache volumes
Autobalance aggregate
Module 7: Data Access
Use NAS protocols to access data
Use SAN protocols to access data
NVMe and NVMe/FC
Module 8: Data Protection
Manage Snapshot copies
Restore data from a Snapshot copy
Backup and replicate data
Compliance
Storage encryption
Secure purge and secure boot
Module 9: Storage Efficiency
Thin provisioning
Deduplication and compression
Flash efficiency
Volume and file clones
Inline deduplication status
Inline data compaction
Module 10: Cluster Maintenance
Data collection, monitoring and automation tools
Backing up and restoring your cluster configuration
Upgrading your cluster
Performance recommended practices
Technical support
Documentation
ONTAP software upgrades
Module 11: Course Review

ONTAP9ADM Labs:
Exploring ONTAP Management UIs
Managing ONTAP clusters and administrators
Managing physical and logical network resources
Managing virtual network resources
Managing physical storage
Exploring RAID-TEC and creating a flash pool
Managing data volumes
Configuring NAS protocols in an SVM
Configuring iSCSI in an SVM
Managing Snapshot copies
Encrypting a volume
Managing storage efficiency
Managing FlexClone volumes
Bonus Exercise: creating a FlexGroup volume
Installing and configuring Config Advisor
INTHCDF Outline: Module 1: Data Fabric Overview
Data fabric
Solutions for the hybrid cloud
NetApp cloud data services
Cloud Volumes ONTAP
Cloud Volumes service
Cloud sync service
Cloud tiering
SaaS backup
Cloud secure
Cloud backup service
OnCommand cloud manager
APIs
NetApp Kubernetes service
Cloud insights
Module 2: Amazon Web Services (AWS) Virtual Private Cloud and Connectivity to Other Networks
Regions and availability zones
VPC
Network address translation
Security groups
AWS storage
AWS CloudFormation
VPC connectivity to other networks
VPN connections
Module 3: NetApp Cloud Volumes ONTAP
Cloud Volumes ONTAP
Deploying Cloud Volumes ONTAP by using Cloud Manager
Module 4: Implementing Disaster Recovery by Using NetApp Cloud Volumes ONTAP
Creating data protection relationship
SnapMirror destination
Module 5: Azure Virtual Network and Connectivity
Geographies
VNet
Storage
AWS vs. Azure
Module 6: NetApp Cloud Volumes ONTAP Data Tiering
Data tiering in AWS and Azure
Policies
Module 7: NetApp Cloud Volumes ONTAP High Availability
High availability (HA) of Cloud Volumes ONTAP
HA architecture
Deploy HA in AWS using OnCommand Cloud Manager
Module 8: Cloud Sync Service
Cloud Sync Service overview
Data broker
Cloud Sync API
Module 9: NetApp Cloud Volumes Service
Enterprise class cloud storage
Major hyperscalers
File services
Cloud Volumes service for AWS
Configuring service for AWS
Cloud Volumes service for Google Cloud Platform
Azure NetApp Files
INTHCDF Labs:
Controlling cloud resources with Windows PowerShell
Assessing Azure and AWS environments
Configuring AWS virtual private cloud resources
Operationalizing On-Premises to cloud connectivity
Using OnCommand Cloud Manager to deploy Cloud Volumes ONTAP
Configuring and managing disaster recovery in the Data Fabric
Configuring Azure virtual network to On-Premises VPN connectivity
Tiering backup data to Amazon simple storage service
Implementing Cloud Volumes ONTAP high availability
Synchronizing data from On-premises to Amazon simple storage service
Create NFS and CIFS volumes
Online Training
Duration 5 days
Price
CAD 7,130

NetApp Training Units:

72 NTU




NTU's may not have the same redemption value if used in a country other than where they were purchased.
Classroom Training
Duration 5 days
Price
Canada:

CAD 7,130

NetApp Training Units:

72 NTU




NTU's may not have the same redemption value if used in a country other than where they were purchased.
Schedule
Currently there are no training dates scheduled for this course.