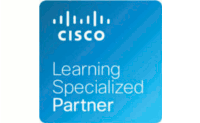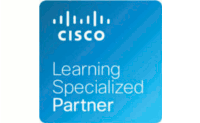 Introducing Cisco Data Center Technologies (DCICT)
Course Content
The Introducing Cisco Data Center Technologies v6.1 course is a five-day instructor-led training (ILT) program that introduces you to Cisco technologies and products that are deployed in the data center: network virtualization, network technologies, unified computing, automation and orchestration, and the Cisco Application-Centric Infrastructure (Cisco ACI). The hands-on lab exercises focus on configuring features on Cisco Nexus Operating System (Cisco NX-OS), Cisco Unified Computing System (Cisco UCS) and Cisco UCS Director.
Who should attend
Network engineer
Network designer
System administrator
Systems engineer
Technical solutions architect
Certifications
This course is part of the following Certifications:
Prerequisites
The learner is expected to have the following skills and knowledge before attending this course:
Good understanding of networking protocols
Good understanding of the VMware environment
Course Objectives
Describe and configure Cisco Unified Computing System
Describe and configure Cisco data center virtualization
Describe and configure Cisco data center networking
Describe and configure Cisco automation and orchestration
Describe and verify Cisco Application-Centric Infrastructure
Follow On Courses
Outline: Introducing Cisco Data Center Technologies (DCICT)
Module 1: Cisco Data Center Network Virtualization
Control and management plane
Cisco NX-OS control plane policing
Data plane functionality
NX-OS virtual routing and forwarding (VRF) contexts

Layer 3 routing table
Management and default VRFs
VRF-Aware services

Virtual device contexts (VDC)

Architecture on 7000 series switch
CPU sharing
Scalability and communications
Default, Admin and storage VDCs
Management
Licensing

Overlay networks
Virtual extensible LAN
Generic routing encapsulation
Virtual machine components
Hypervisor
Virtual switch features
Virtual machine benefits
ESXi
vNetwork standard switch and operation
Cisco Nexus 1000V
Module 2: Cisco Data Center Network Technologies Configuration [*] Deployment models
[*] FEX technology [*] Nexus 2000 series fabric extender [*] FEX VNTag [*] Deploying 2000 fabric extenders [*] Adapter FEX technology [*] Port channels [*] Virtual port channels (vPCs) [*] Supported Nexus 5000 and 7000 vPC topologies [*] Cisco Fabric path
Evolution
Benefits
Control plane
VLANs
Conversational MAC address learning
[*] Nexus unified port feature [*] Cisco Unified fabric [*] Flow control [*] Data center bridging (DCB) [*] FCoE [*] FCoE initialization protocol (FIP) [*] Fabric-provided MAC address[/list]
Module 3: Cisco Unified Computing System (UCS)
UCS C-series
IMC overview
UCS B-Series
UCS 5100
UCS M-Series
IMC supervisor
UCS manager
UCS manager GUI
Role-based access control
UCS hardware abstraction

Benefits
Identity and resource pools
Universally unique identifier pools
MAC pools
WWNN pool
WWPN pool
Server pools

Service profile
Module 4: Data Center Automation and Orchestration
Utility of application programming interfaces (API)
XML
JSON
REST
NETCONF
NX-API
XMPP
Best API
DevOps model
Cloud computing

IT principles
Business needs
Characteristics

Cloud deployment models

Private
Public
Hybrid
Community

Cloud service models
UCS Director features and capabilities
UCS Director deployment models
VDCs, tenants and policies
UCS Director Orchestrator
UCS Director Catalog
UCS Director CloudSense
Module 5: Cisco Application-Centric Infrastructure (ACI)
Overview
Host routing
ACI logical model constructs
Endpoint Group (EPG) mapping
Policy enforcement
ACI Fabric L4-L7 service chaining
Nexus 9000 product family for ACI
IS-IS Fabric infrastructure routing
VXLAN
VNID
ARP flooding
FTags
ACI programmability
Fabric object tree (dMIT) queries
Python programmability tools
APIC REST
OpenStack orchestration
Labs:
Connect to Cisco Nexus Series Switches Using SSH
Configure VRFs
Explore the Elements of Virtual Device Contexts
Install VMware ESXi on UCS C-Series Rack Server
Install VMware vCenter Server Appliance
Install Cisco Virtual Switch Update Manager
Install Cisco Nexus 1000V with VSUM
Configure a Port Group in the DVS
Configure the Cisco Nexus 2000 Fabric Extender
Configure Virtual Port Channels
Configure Virtual Port Channels with FEX
Configure Cisco FabricPath
Configure Unified Ports on Cisco Nexus Switch
Implement FCoE
Install and Configure the Cisco IMC Supervisor
Navigate the Cisco UCS Manager GUI Interfaces
Configure Local RBAC
Configure Pools
Configure a Service Profile Template
Configure Cisco NX-OS with APIs
Explore the Management Information Tree of the Cisco UCS Manager XML API
Configure Cisco UCS Manager with the Postman REST Plugin for Google Chrome
Install and Configure User Accounts in Cisco UCS Director
Add Virtual and Physical Accounts to Cisco UCS Director
Customize Cisco UCS Director
Explore Cisco UCS Director Monitoring Capabilities
Create Policies and VDCs
Create a Catalog and Provision a VM Using the Self-Service Portal
Explore Cisco UCS Director Built-In Reports
View Chargeback and Reports
Classroom Training
Duration 5 days
Price
Canada:

CAD 5,670

Cisco Learning Credits:

44 CLC
Dates and Booking
Online Training
Duration 5 days
Price
Canada:

CAD 5,670

Cisco Learning Credits:

44 CLC
Dates and Booking
Click on town name to book
Schedule
This is an Instructor-Led Classroom course
Fast Lane will carry out all guaranteed training regardless of the number of attendees, exempt from force majeure or other unexpected events, like e.g. accidents or illness of the trainer, which prevent the course from being conducted.
This class will become guaranteed to run with one more student registration.
This computer icon in the schedule indicates that this date/time will be conducted as Instructor-Led Online Training.
This is a FLEX course, which is delivered both virtually and in the classroom.
* This class is delivered by a partner.
Canada
Jun 25-29, 2018

Online Training

09:00 Canada/Pacific

Enroll

Aug 27-31, 2018

This is a FLEX event

Ottawa, ON

09:00 Canada/Eastern

Enroll

Online Training

Time zone: Canada/Eastern

Enroll

Oct 15-19, 2018

Online Training

09:00 Canada/Central

Enroll
United States
Apr 23-27, 2018

Guaranteed to Run

Online Training

08:00 US/Mountain

*

Enroll

Jun 25-29, 2018

Online Training

09:00 US/Pacific

Enroll

Jul 9-13, 2018

Online Training

09:00 US/Central

*

Enroll

Aug 27-31, 2018

Online Training

09:00 US/Eastern

Enroll

Oct 1-5, 2018

Online Training

09:00 US/Central

*

Enroll

Oct 15-19, 2018

Online Training

09:00 US/Central

Enroll

Dec 17-21, 2018

Online Training

09:00 US/Central

*

Enroll
Europe
Germany
Austria
May 22-26, 2018

Vienna (iTLS)

4 days

Enroll

Aug 20-24, 2018

Vienna (iTLS)

Enroll

Nov 12-16, 2018

Vienna (iTLS)

Enroll
Italy
Jun 11-15, 2018

Rome

Enroll

Jul 9-13, 2018

This is a FLEX event

Milan

Enroll

Online Training

Time zone: Europe/Rome

Enroll

Sep 17-21, 2018

Rome

Enroll

Oct 15-19, 2018

Milan

Enroll

Nov 26-30, 2018

Rome

Enroll
Netherlands
Jun 4-8, 2018

Utrecht

Course language: English

Enroll
Romania
Jun 11-15, 2018

This is a FLEX event

Bucharest

Course language: English

Enroll

Online Training

Time zone: Europe/Bucharest

Enroll
Slovenia
Nov 19-23, 2018

This is a FLEX event

Ljubljana

Course language: English

Enroll

Online Training

Time zone: Europe/Ljubljana

Enroll
United Kingdom
Jun 18-22, 2018

This is a FLEX event

London (Int Hse)

Enroll

Online Training

Time zone: Europe/London

Enroll

Aug 20-24, 2018

This is a FLEX event

London (Int Hse)

Enroll

Online Training

Time zone: Europe/London

Enroll

Oct 22-26, 2018

This is a FLEX event

London (Int Hse)

Enroll

Online Training

Time zone: Europe/London

Enroll

Dec 10-14, 2018

London (Int Hse)

Enroll
Asia Pacific
Middle East
Qatar
Aug 26-30, 2018

Doha

Course language: English

Enroll