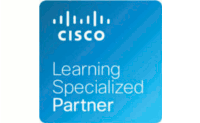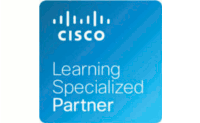 Cisco Selling Business Outcomes (OUTCOMES)
*SPECIAL OFFER*
Bundle and save! As part of your Gold Partner certification, Fast Lane makes it easy to become a Business Value Practitioner in one week by bundling all 3 classes and taking all 3 exams with the Gold Partner Business Value Package (BVBUNDLE).
About this Course
Selling Business Outcomes is the foundation of Cisco's business sales skills curriculum. This one day course builds core knowledge and abilities for selling technology services and solutions with a business outcome focus.
This one day course enables individuals to:
better understand the customer business context.
identify how technology solutions can be positioned to meet customer-defined needs or business outcomes.
generate increased opportunity pipeline, revenue and profit for Cisco and/or Channel Partners.
The course prepares you for the Cisco Selling Business Outcomes (810-403) exam.
A qui s'adresse cette formation
This training is intended for individuals in sales roles, including Account Managers, Sales Specialists and System Engineers within Cisco and its Channel Partner companies.
Certifications
Cette formation fait partie de la certification:
Class Prerequisites
What You Will Learn
Following completion of this one day course, students will be able to:
Explain the tenets, principles, and approach to business outcomes sales
Articulate the customer environment for purchasing and adopting technology solutions
Describe opportunities for revenue and customer impact across industry verticals
Discuss critical success factors and key performance indicators for business outcomes sales
Identify key customer decision makers, influencers, and expectations
Explain the financial drivers that impact business outcome sales
Prepare a customer focused action plan and business outcomes story
Classroom training
Prix
Canada:

CAD 1 550,-

Cisco Learning Credits:

11 CLC
Dates and Booking
Formation en ligne
Durée 1 jour
Prix
Canada:

CAD 1 550,-

Cisco Learning Credits:

11 CLC
Dates and Booking
pointer une ville pour s'enregistrer
Agenda
This is an Instructor-Led Classroom course
Cours en ligne avec instructeur
Formation en mode FLEX™.
Canada
Actuellement aucune session planifiée For enquiries please write to info@fastlaneca.com.
Etats-Unis
Dec 11, 2017

Formation en ligne

09:00 US/Central

S'inscrire
Europe
Allemagne
Royaume-Uni
Mar 29, 2018

This is a FLEX event

London, City

S'inscrire

Formation en ligne

Fuseau horaire: Europe/London

S'inscrire

Jun 1, 2018

This is a FLEX event

London, City

S'inscrire

Formation en ligne

Fuseau horaire: Europe/London

S'inscrire
Slovénie
Nov 27, 2017

This is a FLEX event

Ljubljana

Langue: Anglais

S'inscrire

Formation en ligne

Fuseau horaire: Europe/Ljubljana

S'inscrire
Suède
Nov 10, 2017

This is a FLEX event

Stockholm

Langue: Anglais

S'inscrire

Formation en ligne

Fuseau horaire: Europe/Stockholm

S'inscrire

Mar 22, 2018

This is a FLEX event

Stockholm

Langue: Anglais

S'inscrire

Formation en ligne

Fuseau horaire: Europe/Stockholm

S'inscrire

May 25, 2018

This is a FLEX event

Stockholm

Langue: Anglais

S'inscrire

Formation en ligne

Fuseau horaire: Europe/Stockholm

S'inscrire
Latin America
Peru
Nov 30, 2017

Formation en ligne

Fuseau horaire: America/Lima

Langue: Español

S'inscrire