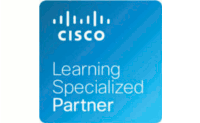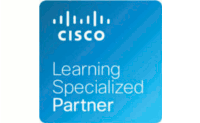 Implementing Advanced Cisco ASA Security (SASAA)
About this Course
Implementing Advanced Cisco ASA Security v2.1 provides you with knowledge of advanced features of Cisco ASA security products and enables you to implement the key features of ASA including FirePOWER services v6.0, ASA Identity Firewall, ASA Cloud Web security, ASA Clustering and virtual ASA.
A qui s'adresse cette formation
Network engineers
Network designers and administrators
Network managers
Class Prerequisites
What You Will Learn
Upon completion of this course, you will be able to:
Describe the Cisco ASA 5500-X Series Next-Generation Firewalls, ASAv, ASA 5506-X, 5508-X, 5516-X, and ASASM and implement new ASA 9.4.1 features
Implement Cisco ASA Identity Firewall policies
Install and set up the Cisco Firepower Services Module (SFR)
Implement Cisco ASA Cloud Web Security
Implement cisco ASA Clustering
Describe Cisco ASA Security Group Firewall and Change of Authorization Support
Follow On Courses
Outline: Implementing Advanced Cisco ASA Security (SASAA)
Module 1: Cisco ASA Product Family
Introduction to ASA series firewalls
Introduction to ASAv
Deploy ASAv
ASAv Other hypervisors support, digitally signed image and management options
Verify ASAv VM
ASA 9.2.1 BGP IPv6 support
ASA 9.3 features
ASA 9.4.1 + VXLAN support
Describe the Cisco ASASM platforms, architecture, and features
Module 2: Cisco ASA Identity Firewall
ASA Identity Firewall benefits, flow and policies
Cisco CDA basic network configuration
Application status verification
Active directory server configuration
CDA user-account configuration
CDA GUI password policy configuration
Configure identity firewall policies on ASA
FQDN network object configuration
Verify user-identity operations
CDA management with CLI, live log monitoring and troubleshooting
Module 3: Cisco ASA Firepower Services
SFR introduction
FireSIGHT management
SFR management interface, package installation and verification
FireSIGHT VM installation and setup
License requirement
Policy types introduction
Recommended rules introduction
Monitoring
ASDM and Firepower on-box FireSIGHT manager
Firepower dashboard, reporting, status and events viewer
Licensing
Firepower 6.0 features
System configurations and device platform settings
Firepower multidomain management
Module 4: Cisco ASA Cloud Web Security (CWS)
ASA with CWS introduction
CWS scanning processes
Licenses
ASA with CWS integration
CWS operations verification
Verify traffic redirection
Syslog messages
ScanCenter web filtering policy introduction and configuration
ASA CWS AMP introduction
CWS cognitive threat analysis
Threats reporting
Module 5: Cisco ASA Clustering
Cluster performance figures and supported platforms
Cluster data-interface modes and connections
CLL functions
Cluster dynamic-routing, NAT and PAT operations
Cluster terminology
TCP, asymmetric UDP, short-lived and centralized-feature traffic flows
Cluster management
Configuration with the CLI
Each unit configuration
Master unit configuration
Sample configuration of a two-unit cluster with spanned etherchannel and individual interface
Configure ASA cluster using Cisco ASDM
Cluster licensing
Verification types
Troubleshoot ASA cluster operations
Cluster features of v9.1.4, v9.2.1, v9.3.1 and v9.4.1
Module 6: Cisco ASA Security Group Firewall and Change of Authorization (Optional)
Cisco secure access architecture
SG Firewall configuration
SGACL operations monitoring
SGT features (post 9.0 releases)
Change of authorization introduction
Chang of authorization CLI and ASDM configurations
Labs:
Access the Remote Cisco Learning Lab Environment
Set Up and Test the ASAv
Implement New Features in ASA 9.3 and 9.4
Configure the Cisco CDA
Configure ASA IDFW
Cisco ASA Firepower Services Module Installation
Cisco Firepower Management Center Configuration
Configure ASA CWS
Cisco ASA Cluster Configuration
Classroom training
Durée 5 jours
Prix
Canada:

CAD 3 995,-

Cisco Learning Credits:

38 CLC
Dates and Booking
Formation en ligne
Durée 5 jours
Prix
Canada:

CAD 3 995,-

Cisco Learning Credits:

38 CLC
Dates and Booking
pointer une ville pour s'enregistrer
Agenda
This is an Instructor-Led Classroom course
Fast Lane s'engage à mettre en œuvre les formations garanties quelque soit le nombre de participants, en dehors des cas de force majeurs ou d'événements exceptionnels, comme un accident ou un maladie de l'instructeur.
Cours en ligne avec instructeur
Formation en mode FLEX™.
* This class is delivered by a partner.
Canada
Oct 23-27, 2017

Gatineau

08:30 Canada/Eastern

Langue: Français

*

S'inscrire

Oct 30-Nov 3, 2017

garanti !

Formation en ligne

09:00 Canada/Central

S'inscrire

Oct 30-Nov 3, 2017

Quebec City, QC

08:30 Canada/Eastern

Langue: Français

*

S'inscrire

Jan 15-19, 2018

Formation en ligne

09:00 Canada/Central

S'inscrire

Apr 23-27, 2018

Formation en ligne

09:00 Canada/Eastern

S'inscrire

Jul 30-Aug 3, 2018

Formation en ligne

09:00 Canada/Central

S'inscrire

Nov 5-9, 2018

Formation en ligne

09:00 Canada/Eastern

S'inscrire
Etats-Unis
Moyen-Orient
Emirats-Arabes-Unis
Oct 29-Nov 2, 2017

Dubai

Langue: Anglais

This course is being delivered by iTLS.

S'inscrire

Feb 18-22, 2018

Dubai

Langue: Anglais

This course is being delivered by iTLS.

S'inscrire

May 13-17, 2018

Dubai

Langue: Anglais

This course is being delivered by iTLS.

S'inscrire

Aug 5-9, 2018

Dubai

Langue: Anglais

This course is being delivered by iTLS.

S'inscrire

Nov 4-8, 2018

Dubai

Langue: Anglais

This course is being delivered by iTLS.

S'inscrire
Afrique
Egypte
Nov 5-9, 2017

Le Caire

Langue: Anglais

S'inscrire

Mar 25-29, 2018

Le Caire

Langue: Anglais

S'inscrire

Jun 17-21, 2018

Le Caire

Langue: Anglais

S'inscrire

Oct 7-11, 2018

Le Caire

Langue: Anglais

S'inscrire

Dec 23-27, 2018

Le Caire

Langue: Anglais

S'inscrire