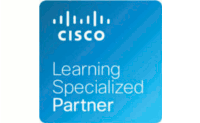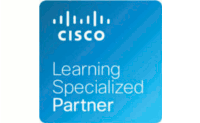 Securing Cisco Networks with Threat Detection and Analysis (SCYBER)
About this Course
The Securing Cisco® Networks with Threat Detection Analysis (SCYBER) course, version 1.0 is an instructor-led course offered by Fast Lane, a Cisco Specialized Learning Partner. This lab-intensive training course prepares you to take the Cyber Security Specialist Certification exam (exam ID = 600-199) and to hit the ground running as a security analyst team member.

The course combines lecture materials and hands-on labs throughout to make sure that you are able to successfully understand cyber security concepts and to recognize specific threats and attacks on your network. This course is designed to teach you how a network security operations center (SOC) works and how to begin to monitor, analyze, and respond to security threats within the network. The job role for a security analyst will vary from industry to industry and differ in the private sector versus the public sector.
A qui s'adresse cette formation
This course is designed for technical professionals who need to know how to monitor, analyze, and respond to network security threats and attacks.
Certifications
Cette formation fait partie de la certification:
Class Prerequisites
Following is the recommended prerequisite training for this course:
Standard CCNA® certification as a minimum with CCNA Security a plus
Basic Cisco IOS® Software switch and router configuration skills
What You Will Learn
Upon completion of this course, you should have obtained four major areas of competency:
Monitor security events
Configure and tune security event detection and alarming
Analyze traffic for security threats
Respond appropriately to security incidents
Outline: Securing Cisco Networks with Threat Detection and Analysis (SCYBER)
The course outline is as follows:
Module 1: Course Introduction: Overview of Network Security and Operations
Module 2: Network and Security Operations Data Analysis
Module 3: Packet Analysis
Module 4: Network Log Analysis
Module 5: Baseline Network Operations
Module 6: Preparing for Security Incidents
Module 7: Detecting Security Incidents
Module 8: Investigating Security Incidents
Module 9: Reacting to an Incident
Module 10: Communicating Incidents Effectively
Module 11: Postevent Activity

The lab outline is as follows:
Lab 1: Assess Understanding of Network and Security Operations
Lab 2: Assess Understanding of Network and Security Data Analysis
Lab 3: Network and Security Data Analysis Team-Building Activity
Lab 4: Packet Capture Exercise 1
Lab 5: Packet Capture Exercise 2
Lab 6: Packet Capture Exercise 3
Lab 7: Understanding Log Data
Lab 8: Correlation Lab
Lab 9: Assessing Understanding
Lab 10: Mapping a Monitored Network Topology
Lab 11: Assessing Normal Behaviors of a Monitored Network
Lab 12: Assessing Current Security Controls
Lab 13: Assessing Current Monitoring System
Lab 14: Manually Correlating Events
Lab 15: Automatically Correlating Events
Lab 16: Identifying a Security Incident
Lab 17: Understanding NetFlow
Lab 18: NetFlow Practical Activity
Lab 19: Assessing Understanding
Lab 20: Selecting Mitigations
Lab 21: Developing Mitigations
Lab 22: Documenting Incidents
Lab 23: Recommending Remediation
Lab 24: Improving Security
Lab 25: Incident Response Challenge Lab

Classroom training
Durée 5 jours
Prix
Canada:

CAD 4 495,-

Cisco Learning Credits:

43 CLC
Dates and Booking
Formation en ligne
Durée 5 jours
Prix
Canada:

CAD 4 495,-

Cisco Learning Credits:

43 CLC
Dates and Booking
pointer une ville pour s'enregistrer
Agenda
This is an Instructor-Led Classroom course
Cours en ligne avec instructeur
Formation en mode FLEX™.
* This class is delivered by a partner.
Canada
Nov 13-17, 2017

Gatineau

08:30 Canada/Eastern

Langue: Français

*

S'inscrire

Nov 20-24, 2017

Quebec City, QC

08:30 Canada/Eastern

Langue: Français

*

S'inscrire
Etats-Unis
Dec 18-22, 2017

Formation en ligne

09:00 US/Central

S'inscrire
Europe
Allemagne
Bulgarie
Dec 4-8, 2017

This is a FLEX event

Sofia

Langue: Anglais

S'inscrire

Formation en ligne

Fuseau horaire: Europe/Sofia

S'inscrire
Royaume-Uni
Jan 15-19, 2018

This is a FLEX event

London, City

S'inscrire

Formation en ligne

Fuseau horaire: Europe/London

S'inscrire

Apr 9-13, 2018

This is a FLEX event

London, City

S'inscrire

Formation en ligne

Fuseau horaire: Europe/London

S'inscrire

Jun 18-22, 2018

This is a FLEX event

London, City

S'inscrire

Formation en ligne

Fuseau horaire: Europe/London

S'inscrire
Moyen-Orient
Emirats-Arabes-Unis
May 13-17, 2018

Dubai

Langue: Anglais

This course is being delivered by iTLS.

S'inscrire

Nov 4-8, 2018

Dubai

Langue: Anglais

This course is being delivered by iTLS.

S'inscrire
Afrique
Egypte
Nov 26-30, 2017

Le Caire

Langue: Anglais

S'inscrire

May 13-17, 2018

Le Caire

Langue: Anglais

S'inscrire

Oct 28-Nov 1, 2018

Le Caire

Langue: Anglais

S'inscrire