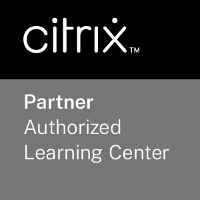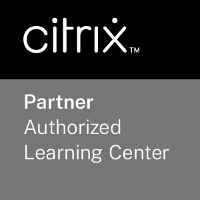 Deploy and Manage Citrix XenApp/XenDesktop 7.6 Fast Track (CMB-300)
About this Course
This fast-paced Citrix Desktop Virtualization Fast Track course CMB-300 provides students the skills required to successfully deploy and support a complete Citrix hosted application and desktop virtualization solution in a Windows Server 2012 R2 environment. Throughout this course, students will learn how to configure an environment that includes the following Citrix components: XenServer, XenDesktop, Citrix License Server, MCS, PVS, Personal vDisk, StoreFront, NetScaler (ICA Proxy, Load Balancing, Endpoint Analysis), and Citrix Receiver. Upon course completion, students will be able to build a XenDesktop 7.5 environment from scratch, test the implementation to ensure that all components work as expected, and successfully manage, monitor, and troubleshoot a XenDesktop 7.5 solution. By the nature of this course, it includes intensive hands-on labs and lecture sessions that run longer and also students are expected to select study some modules as guided by the instructor to achieve the course objectives.
A qui s'adresse cette formation
This course is recommended for Architects, Consultants, Engineers, and Administrators. Students will gain hands-on experience installing, configuring, and managing hosted application and desktop virtualization solutions from the ground up. Upon completion of the course, students will have the skills required to successfully deploy and support XenApp and XenDesktop 7.6 solutions that the majority of Citrix customers implement today.
Class Prerequisites
Before taking this course, Citrix recommends that you have:
An understanding of server, desktop and application virtualization concepts
Experience with Windows Server 2012 R2, specifically:

Active Directory

Domains
Groups and User Accounts
Organizational Units
Group Policy Objects

Experience with Windows 7 and Windows 8.1 user interfaces
Basic storage knowledge (manage existing storage types, add new storage)
Basics of Citrix licensing
Familiarity with at least one hypervisor (XenServer, Hyper-V, or vSphere)
Basic understanding of the different types of profiles (local, roaming, mandatory) Completed the following courses or can demonstrate equivalent knowledge: CXD-102 Introduction to XenDesktop 7
What You Will Learn
Upon successful completion of this course, you will be able to:
Understand the XenDesktop 7.5 architecture, components, and communication
Set up the hypervisor
Set up and manage the XenDesktop 7.5 infrastructure
Create and manage machine catalogs and Delivery Groups
Configure and manage StoreFront
Configure and manage policies and end-user profiles
Manage sessions, sites, and end users with Director
Manage printing
Set up and Manage Provisioning Services
Validate the Implementation
Set up NetScaler to provide external access to XenDesktop 7.5 resources
Outline: Deploy and Manage Citrix XenApp/XenDesktop 7.6 Fast Track (CMB-300)
Module 1: Understanding the XenDesktop 7.5 Architecture
Understanding the Architecture of a XenDesktop Solution
XenDesktop Virtualization Technologies
Infrastructure Components
Citrix Components
Designing a XenDesktop Implementation
Design Document
Module 2: Hypervisor Considerations
Setting up the Hypervisor
Installing the Hypervisor
Installing the Hypervisor Management Console
Configuring the Hypervisor
Creating Templates
Reinforcement Exercise – Creating a Windows 7 Template
Module 3: Infrastructure Considerations
Setting Up the Infrastructure Components
Setting Up the Infrastructure Components
Setting Up the Domain Controller
Setting Up the Dynamic Host Configuration Protocol
Setting Up a Certificate Authority
Setting Up the File Server
Setting Up SQL Server 2012
Setting Up SQL Server Mirroring
Reinforcement Exercise – Redirecting Additional Folders
Module 4: Setting Up Citrix Components
Setting Up Citrix Components
Setting Up the Citrix License Server
Setting Up the Delivery Controller
Setting Up a Second Controller
Setting Up the Citrix Universal Print Server
Setting Up StoreFront
Setting Up a Second StoreFront Server
Setting Up Receiver
Reinforcement Exercise – Using the Receiver for Web Site
Module 5: Setting Up XenDesktop Resources
Setting Up XenDesktop Resources
Preparing the Master Virtual Machine
Setting Up a Server OS Master Image
Setting Up a Desktop OS Master Image
Creating a Machine Catalog
Creating a Delivery Group
Reinforcement Exercise – Adding Machines and Delivery Groups
Module 6: Managing Policies and Profiles
Setting Up Policies
Policy Precedence (Studio vs. Group Policy Objects)
Creating Policies Using Studio
Creating Policies Using Group Policy
Obtaining the Resultant Set of Policy Using Group Policy Objects
Managing End-User Profiles
Reinforcement Exercise 1: Working with Policies
Reinforcement Exercise 2: Working with Profiles
Module 7: Managing Printing
Managing Printing
Default Printing Behavior
Configuring Client Printing
Managing Printer Drivers
Optimizing Printing Performance
Setting Up and Managing the Universal Print Server
Reinforcement Exercise: Managing Printing
Module 8: Setting Up Provisioning Services
Setting Up Provisioning Services
Provisioning Services Architecture
Setting Up a Provisioning Services Server
Installing the Provisioning Services Console
Configuring Boot from Network
Setting Up a Second Provisioning Services Server
Configuring the BootStrap File for High Availability
Configuring the Master Target Device
Creating the vDisk
Assigning a vDisk to a Target Device
Creating the Machine Catalog
Creating the Delivery Group
Reinforcement Exercise – Creating BDM Target Devices
Module 9: Managing and Monitoring Sessions, Sites, and End Users with Director
Director Overview
Monitoring within the Director Dashboard
Monitoring and Managing End-User Sessions
Reinforcement Exercise: Using Director
Module 10: Setting Up NetScaler
Setting Up NetScaler
Performing the Initial NetScaler Configuration
Configuring NTP
Configuring NetScaler High Availability
Setting Up DNS
Creating Certificates for NetScaler
Load Balancing StoreFront Servers
Configuring NetScaler for Remote Access
Redirecting HTTP Requests for StoreFront
Modifying StoreFront to Integrate with NetScaler
Configuring ICA Proxy
Configuring Authentication Policies
Configuring NetScaler for Email-Based Account Discovery
Reinforcement Exercise – Scanning an Endpoint for a File
pointer une ville pour s'enregistrer
Agenda
This is an Instructor-Led Classroom course
Cours en ligne avec instructeur
Formation en mode FLEX™.
* This class is delivered by a partner.