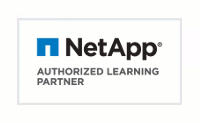 Administration of Active IQ Unified Manager ONTAP (AOCMCDOT)
Contenu
Administration of OnCommand Management Solutions for Clustered Data ONTAP (AOCMCDOT) is a 2 day instructor led course that demonstrates how to configure OnCommand Unified Manager, monitor and Manage storage objects, configure Oncommand Performance Manager, and the learn the features and benefits of OnCommand Workflow Automation.
Module 1: Using OnCommand Unified Manager to Monitor Data ONTAP Clusters
Configure Unified Manager and enable the discovery process
Use the Unified manager dashboard to monitor the health of your storage infrastructure
Create Unified Manager users and assign user roles
Module 2: Monitoring and Managing Storage Objects
Monitor the details of the clusters, aggregates, and volumes in your storage environment
Monitor SAN and NAS components
Identify and resolve a capacity issue for a volume and an aggregate
Explore Unified Manager reporting features
Export data from Unified Manager view to a comma-separated-values (CSV) file
Module 3: Customizing OnCommand Unified Manager for Your Storage Environment
Configure capacity thresholds for volumes
Configure lag thresholds and volume quota alerts
Configure event-retention setting and alerts
Use annotations to categorize storage objects
Assign actions to groups
Explain some appropriate use cases for both annotations and groups
Module 4: OnCommand Performance Manager Configuration and Performance Monitoring
Deploy the Performance Manager virtual appliance
Perform the initial configuration to integrate Performance manager with Unified Manager
Use Unified Manager to monitor the performance of cluster objects
Configure Performance Manager user-defined thresholds
Module 5: Installing and Configuring OnCommand Workflow Automation
Identify the basic architecture of the OnCommand WFA server
Install OnCommand WFA
Connect OnCommand WFA to Unified Manager
Navigate the OnCommand WFA UI
Configure OnCommand WFA data sources and target systems
Add users to OnCommand WFA
Module 6: Managing OnCommand Workflow Automation Workflows
Execute Predefined workflows from the OnCommand WFA server portal
Execute predefined workflows from the Unified Manager server
Monitor workflow execution
Respond to workflow approval requests
Create and monitor data-protection relationships
Labs
Perform initial setup of Unified Manager
Add clusters for Unified Manager to manage
Navigate and use the Unified Manager dashboard
Monitor clusters, aggregates, volumes, CIFS shares, LUNs, and volume capacity
Export data from Unified Manager to a CSV file
Run a Unified Manager report
Configure event retention settings and alerts
Configure alerts
View and manage events
Configure capacity thresholds for volumes
Configure global thresholds
Configure and use annotations to categorize storage objects
Configure and use groups to categorize storage objects
Convert an annotation to a group
Log in to Performance Manager and explore administration options
Explore the Performance Manager UI
Manage thresholds and alerts
Review events and performance statistics.
Complete the WFA Setup Wizard
Configure the connection between OnCommand WFA and OnCommand Unified Manager
Enter storage-system credentials
Configure data sources
Add OnCommand WFA users and user roles
Schedule the creation of a volume
Manage reserved resources
Respond to a request for approval
Create a protection relationship
Break and resynchronize a protection relationship.
Configure event retention settings
Configure an alert
A qui s'adresse cette formation
NetApp employees or NetApp partners who are support engineers, Professional Services workers, or Customer Support Services workers
Pré-requis
Working knowledge of clustered Data ONTAP
Objectifs
By the end of this course, you should be able to:
Configure Unified Manager to manage your storage infrastructure, storage objects, and protection relationships
Use annotations to categorize storage objects
Configure thresholds, event retention settings, and alerts
Identify and resolve issues in your storage environment
Use OnCommand Performance Manager to identify and resolve performance incidents
Configure Workflow Automation to execute predefined and user-defined workflows for storage operations
Formation en ligne
Durée 2 jours
Prix
CAD 2 520,-

NetApp Training Units:

24 NTU




NTU's may not have the same redemption value if used in a country other than where they were purchased.
Classroom training
Durée 2 jours
Prix
Canada:

CAD 2 520,-

NetApp Training Units:

24 NTU




NTU's may not have the same redemption value if used in a country other than where they were purchased.
pointer une ville pour s'enregistrer
Agenda
This is an Instructor-Led Classroom course
Date garantie: Fast Lane s'engage à mettre en œuvre les formations garanties quelque soit le nombre de participants, en dehors des cas de force majeurs ou d'événements exceptionnels, comme un accident ou un maladie de l'instructeur.
Instructor-led Online Training: Cours en ligne avec instructeur
Formation en mode FLEX, à la fois à distance et en présentiel. Tous nos cours FLEX sont aussi des ILO (Instructor-Led Online).
Etats-Unis
garanti !

Formation en ligne

09:00 US/Eastern

S'inscrire

Formation en ligne

09:00 US/Pacific

S'inscrire

garanti !

Formation en ligne

09:00 US/Central

S'inscrire

Formation en ligne

09:00 US/Eastern

S'inscrire

garanti !

Formation en ligne

09:00 US/Pacific

S'inscrire

Formation en ligne

09:00 US/Central

S'inscrire

garanti !

Formation en ligne

09:00 US/Eastern

S'inscrire

Formation en ligne

09:00 US/Pacific

S'inscrire

garanti !

Formation en ligne

09:00 US/Central

S'inscrire
Canada
garanti !

Formation en ligne

09:00 Canada/Eastern

S'inscrire

Formation en ligne

09:00 Canada/Pacific

S'inscrire

garanti !

Formation en ligne

09:00 Canada/Central

S'inscrire

garanti !

Formation en ligne

09:00 Canada/Pacific

S'inscrire

Formation en ligne

09:00 Canada/Central

S'inscrire

garanti !

Formation en ligne

09:00 Canada/Eastern

S'inscrire

Formation en ligne

09:00 Canada/Pacific

S'inscrire

garanti !

Formation en ligne

09:00 Canada/Central

S'inscrire
Asie Pacifique
Australie
Formation en ligne

Fuseau horaire: Australia/Melbourne

S'inscrire

Formation en ligne

Fuseau horaire: Australia/Melbourne

S'inscrire
Inde
Formation en mode FLEX.

Bangalore

S'inscrire

Formation en ligne

Fuseau horaire: Asia/Calcutta

S'inscrire

Formation en mode FLEX.

Bangalore

S'inscrire

Formation en ligne

Fuseau horaire: Asia/Calcutta

S'inscrire