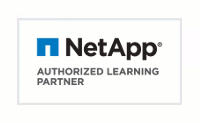 Implementing and Administering the FlexPod Solution (FPIMPADM)
Student Testimonials
"Great class. I had taken a class using self-paced material, although good, having an knowledgeable instructor is invaluable when you get stuck."
- Scott Kimbel, GSIA, NetApp
Course Overview
FlexPod Implementation and Administration is a 3-day instructor-led course where you will learn to set up, configure, and administer the FlexPod architecture. The course provides a comprehensive understanding of the configuration requirements for FlexPod at the network, storage, and compute layers of the architecture. FlexPod can be used to deploy and manage internal, external, and cloud architectures. Centralized administration is achieved by using management tools such as Cisco UCS Director, NetApp Virtual Storage Console, and vCenter. These management tools are introduced and practical hands on labs are used to reinforce topics to learners.
This course provides learners with the course objectives and prerequisite learner skills and knowledge. The Course Introduction presents the course flow diagram and the icons that are used in the course illustrations and figures. This course component also describes the curriculum for this course, providing learners with the information that they need to make decisions regarding their specific learning path.

Now including additional information including:
New Information on the SolidFire Platform
Additional deployment models to include:

SolidFire on FlexPod
CVD featuring ONTAP 9, vSphere 6.5 and Nexus 9000 with FC / FCoE

Updated hardware options and new equipment
Theory lab
Contenu
Course outline
Module 1: FlexPod Overview
FlexPod validated designs
FlexPod architecture
FlexPod platform solutions

Cisco UCS Mini
All FAS Flash
SolidFire ** NEW Content**
OpenStack
Hyper-V

FlexPod platform

Review of storage
Review of network
Review of compute

Identify FlexPod Deployment Models - **NEW Content**[/b]

FlexPod Express
FlexPod Datacenter
FlexPod Select

Describe FlexPod Deployment Topologies - **NEW Content**[/b]
FlexPod cooperative support
Life-cycle management (LCM)
Customer profile
Customer challenges and goals
Existing customer environment
VMware vSphere 6.0 characteristics
Learning Activity: check understanding of FlexPod Platform Solutions, Deployment Models and Topologies **NEW Activity**
Module 2: FlexPod Networking Implementation
Cisco Nexus hardware
VLAN requirements
Port configuration options
Access and trunk ports
Port channels
Virtual port channels (vPC)
vPC building blocks
vPC configuration requirements
NPV and NPIV
Fibre Channel fundamentals
FCoE fundamentals
Overview of VSAN
VSAN information
VSAN recommended practices
Zoning implementation
Zones and zone sets
Zoning practices
Module 3: FlexPod Storage Implementation
NetApp hardware
Cluster configuration
Switched/switchless clusters
Management interfaces

NetApp Oncommand System Manager
NetApp OnCommand Unified Manager
CLI

Service Processor and RLM
Management settings: CDP, Autosupports, and SNMP
Aggregates
SVM namespace and volumes
NFS for VMware datastores
SAN configuration
Initiator groups (igroups), port sets, and ALUA
High availability, including Storage Failover (SFO)
IPspaces and broadcast domains
ifgrps and VLAN tags
LIFs
Module 4: Cisco UCS Implementation
Cisco UCS hardware
Cisco UCS features

User interfaces
Manager
Central

Finite-state machine (FSM)
Fabric interconnect configuration

Clustering
Discovery process and monitoring using FSM

I/O Uplinks and Bandwidth Oversubscription
End-host and switching mode comparisons
Port personality and port types
Unified uplink ports and port channels
Chassis links
VLAN
Resource pools
Creating identity and resource pools
MAC pools
IP pools
LAN connectivity policies
WWNN and WWPN pools
SAN connectivity policies
Policies
Benefits of service profiles
Benefits of service profile template
Expert Service Profile wizard
Service profile associate/disassociate
Management of IP address, KVM and virtual media Cisco hardware
Module 5: Virtualization and Application Solutions
Key implementation factors for FlexPod applications and hypervisors
VMware
OpenStack
Hyper-V
Module 6: FlexPod Management Tools Implementation
Cisco UCS Director
Cisco UCS Central
NetApp OnCommand Unified Manager
NetApp Virtual Storage Console (VSC)
Labs:
General Lab Setup
Cisco Nexus 9300 Network Initial Configuration Setup (Instructor Demo)
Cisco Nexus 9300 LAN Configuration
NetApp Clustered Data ONTAP Initial Configuration Setup (Instructor Demo)
NetApp Clustered Data ONTAP Configuration
Cisco UCS Fabric Interconnect Initial Configuration Setup (Instructor Demo)
Cisco UCS Configuration
VMware ESXi Installation on a NetApp LUN
VMware vSphere Setup
NetApp Virtual Storage Console Configuration
Cisco UCS Director Discovery and Configuration
Cisco UCS Director Discovery Monitoring and Statistics (Optional)
Teardown and Restoration
A qui s'adresse cette formation
The primary audience for this course is as follows:
Network engineers, Network administrators, System engineers and Server administrators
Pré-requis
The knowledge and skills that a learner must have before attending this course are as follows:
Knowledge of server system design and architecture
Familiarity with Ethernet and TCP/IP networking
Familiarity with SANs and NFS network-attached storage (NAS) technologies
Familiarity with Fibre Channel Protocol
Understanding of Cisco Enterprise Data Center Concepts including Unified LAN and SAN
Familiarity with hypervisor technologies (such as Microsoft, Red Hat, or VMware)
Objectifs
Upon completing this course, the learner will be able to meet these overall objectives:
Describe data center architecture and identify FlexPod architecture components
Identify and configure FlexPod networking components
Describe and configure FlexPod storage with clustered data ONTAP
Identify and configure the Cisco UCS compute components of FlexPod
Identify FlexPod management and troubleshooting tools
**NEW Objectives**:

Describe FlexPod Platform Solutions
Identify FlexPod Deployment Models
Describe FlexPod Topologiest Models
Describe FlexPod Topologies
Formation en ligne
Durée 3 jours
Prix
CAD 3 325,-

NetApp Training Units:

36 NTU




NTU's may not have the same redemption value if used in a country other than where they were purchased.

Cisco Learning Credits:

0 CLC
Classroom training
Durée 3 jours
Prix
Canada:

CAD 3 325,-

NetApp Training Units:

36 NTU




NTU's may not have the same redemption value if used in a country other than where they were purchased.

Cisco Learning Credits:

0 CLC
pointer une ville pour s'enregistrer
Agenda
This is an Instructor-Led Classroom course
Date garantie: Fast Lane s'engage à mettre en œuvre les formations garanties quelque soit le nombre de participants, en dehors des cas de force majeurs ou d'événements exceptionnels, comme un accident ou un maladie de l'instructeur.
Instructor-led Online Training: Cours en ligne avec instructeur
Formation en mode FLEX, à la fois à distance et en présentiel. Tous nos cours FLEX sont aussi des ILO (Instructor-Led Online).
Canada
garanti !

Formation en ligne

09:00 Canada/Eastern

S'inscrire

Formation en ligne

09:00 Canada/Central

S'inscrire

Formation en ligne

09:00 Canada/Eastern

S'inscrire

Formation en ligne

09:00 Canada/Pacific

S'inscrire

Formation en ligne

09:00 Canada/Eastern

S'inscrire

Formation en ligne

09:00 Canada/Central

S'inscrire

Formation en ligne

09:00 Canada/Eastern

S'inscrire
Asie Pacifique
Australie
Formation en ligne

Fuseau horaire: Australia/Melbourne

S'inscrire

Formation en ligne

Fuseau horaire: Australia/Melbourne

S'inscrire

Formation en ligne

Fuseau horaire: Australia/Melbourne

S'inscrire