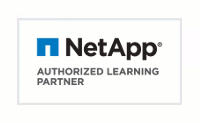 ONTAP Cluster Fundamentals WBT
ONTAP Cluster Fundamentals WBT is a free web-based training offered by NetApp. To get your free access code, please contact us at info@fastlaneus.com. Once we have received your request, a Fast Lane account manager will reach out to you with the access code and instructions to begin your free training.
Product description
This 5 hour web-based course describes the features and benefits of the NetApp® ONTAP® 9 data management software. The course enables you to explain the architecture and functionality of an ONTAP cluster. Also, the course introduces basic administration, configuration and management of an ONTAP cluster. The ONTAP Cluster Fundamentals course was written for cluster administrators of any experience level. A pre-assessment is provided to determine your knowledge of ONTAP. When you complete the pre-assessment, the results recommended the modules that you should focus on. The course also includes a final assessment.
Pré-requis
A basic knowledge of storage networking
Objectifs
Create and configure a cluster
Monitor and manage a cluster
Explain the networks, ports, IPspaces, broadcast domains, subnets, and network interfaces that clusters use
Create and manage storage virtual machines
Describe the tools and features that are used to identify and resolve cluster issues
Follow On Courses