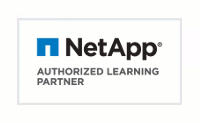 SAN Implementation—Switch Configuration
SAN Implementation—Switch Configuration (NA-SISCWBT) is a free web-based training offered by NetApp. If you would like access to this free course, please click here. Once we have received your request, a Fast Lane account manager will reach out to you with the access code and instructions to begin your free training.
Product description
In the SAN Implementation—Switch Configuration course, you learn to configure Fibre Channel (FC) and IP storage area network (SAN) switches. You learn about the need for zoning and about the two methods that are used to zone an FC switch. In addition, you learn about the virtual LANs (VLANs) that are used when IP SAN switches are configured and about the virtual SANs (VSANs) that are used when FC switches are configured. This course contains an assessment and a passing score of 80% or better is considered a successful completion.
Objectifs
Identify the steps to configure a Brocade or Cisco Fibre Channel (FC) SAN switch
Identify the steps to configure a Cisco iSCSI (IP SAN) switch
Follow On Courses