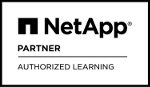 Performance Analysis Fundamentals on Data ONTAP
This course is a free web-based training offering by NetApp. If you would like access to this free course, please click here. Once we have received your request, a Fast Lane account manager will reach out to you with the access code and instructions to begin your free training.
Product Description
This course provides you with the knowledge and skills that you need to collect and analyze system performance data from NetApp storage systems that are running Data ONTAP®. You learn how to interpret data and how to identify and implement changes that improve system efficiency. You also learn how to use system commands and features to monitor and enhance storage system performance.
Course Objectives
Define performance-related terms and describe basic methodologies
Describe how data flows through the network and protocol layers of Data ONTAP
Identify the methods that can be used to monitor and analyze storage system performance
Explain how methods and tools can be used to collect performance data
Use command output to analyze system performance
Use command output to identify performance bottlenecks
Perform basic software configuration tasks and explain how to diagnose issues related to Flash Cache, SSD, and Flash Pool operations
Implement the features and performance capabilities of the Flash Cache module
Locate resources and information that help you maximize system performance
Follow On Courses
For Access to this free course, please fill out the following form