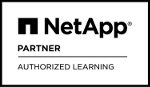 ONTAP Administration: What is New in 9.6
This course is a free web-based training offering by NetApp. If you would like access to this free course, please click here. Once we have received your request, a Fast Lane account manager will reach out to you with the access code and instructions to begin your free training.
Product Description
Course description : In this course, you learn about the new features that are included in the ONTAP 9.4 data management software release. This course is meant to give an update to learners who previously took the ONTAP 9 administration courses and the ONTAP Administration: What is New in ONTAP 9.1, ONTAP 9.2 and ONTAP 9.3 courses. This course does not cover fundamental or basic administration topics.
For Access to this free course, please fill out the following form