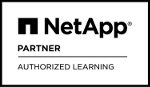 Administration of Active IQ Unified Manager ONTAP (AOCMCDOT)
Course Content
In this course, you discover how to deploy and maintain NetApp® Active IQ® Unified Manager (formerly OnCommand® Unified Manager) and how to pair Unified Manager with the OnCommand Workflow Automation (OnCommand WFA) data management solution. You learn how the performance management features of Unified Manager provide a unified approach to storage management and how that approach reduces complexity. You also learn how to use OnCommand WFA to enhance Unified Manager's data protection capabilities.
Who should attend
NetApp employees or NetApp partners who are support engineers, Professional Services workers, or Customer Support Services workers
Course Objectives
Install and maintain a Unified Manager deployment
Use Unified Manager to monitor the health and performance of your storage infrastructure
Categorize storage objects and implement annotation and group features
Configure thresholds, event retention settings, and alerts so that storage issues can be anticipated and quickly identified
Explore reporting tools and run reports
Pair Unified Manager with OnCommand WFA to manage protection relationships and storage objects in the storage infrastructure
Maintain and protect the Unified Manager database
Outline: Administration of Active IQ Unified Manager ONTAP (AOCMCDOT)
Module 1: Review Unified Manager and NetApp Data Management Products
Overview of NetApp Data Management Solutions
AIQ Unified Manager

Features and Functinos
Discovery Process
Integration with WFA
Module 2: Deploy Unified Manager
Installation and Configuration tasks
Supported Host Environments
Supported Browsers
Hardware Requirements
Prepare information for install
Download software
Install Unified Manager
Configure initial settings
Unified Manager objects
Manage users
Module 3: Explore the Unified Manager UI
Dashboards
Navigation pane
Type-ahead search
Favorites
Column selection
Export inventory data
Using filters
Module 4: Customize Unified Manager for Your Storage Environment
Configure and Customize thresholds
Configure events and alerts
Managing SAML authentication
Annotation and Groups
Annotation rules
Group rules
Group actions
When to use annotations vs. groups
Module 5: Monitor Storage Objects
Inventory pages
Monitor object health
Monitor object performance
Object pages
Protection pages
Using Unified Manager Rest APIs for NSLM features
Module 6: Manage Data Protection Relationships
WFA features and functions
WFA's role in extending DP capabilities in UM
Pairing UM with WFA
The WFA UI
Predefined workflows
Executing workflows
Protecting data with UM
Module 7: Reporting in UM
Understanding reporting in Unified Manager
Built-in reports
Sharing and scheduling reports
Exporting reports
Creating custom reports
Module 8: Maintain Unified Manager
Protecting the UM database
Upgrading UM
Extending disk space for the UM database
Troubleshooting and Remediation
Sending a UM support bundle to NetApp support
Labs:
Review Unified Manager
Deploy UM
Explore the Unified Manager UI
Customize UM for the storage environment
Monitor storage objects
Manage data protections relationships
Reporting in UM
Maintain UM
Online Training
Duration 2 days
Price
CAD 2,520

NetApp Training Units:

24 NTU




NTU's may not have the same redemption value if used in a country other than where they were purchased.
Classroom Training
Duration 2 days
Price
Canada:

CAD 2,520

NetApp Training Units:

24 NTU




NTU's may not have the same redemption value if used in a country other than where they were purchased.
Click on town name or "Online Training" to book
Schedule
This is an Instructor-Led Classroom course
Guaranteed date: Fast Lane will carry out all guaranteed training regardless of the number of attendees, exempt from force majeure or other unexpected events, like e.g. accidents or illness of the trainer, which prevent the course from being conducted.
Instructor-led Online Training: This computer icon in the schedule indicates that this date/time will be conducted as Instructor-Led Online Training.
This is a FLEX course, which is delivered both virtually and in the classroom.
United States
Guaranteed to Run

Online Training

09:00 US/Central

Enroll

Guaranteed to Run

Online Training

09:00 US/Central

Enroll

Guaranteed to Run

Online Training

09:00 US/Pacific

Enroll

Guaranteed to Run

Online Training

09:00 US/Eastern

Enroll

Guaranteed to Run

Online Training

09:00 US/Central

Enroll

Guaranteed to Run

Online Training

09:00 US/Pacific

Enroll

Guaranteed to Run

Online Training

09:00 US/Eastern

Enroll

Guaranteed to Run

Online Training

09:00 US/Central

Enroll

Guaranteed to Run

Online Training

09:00 US/Pacific

Enroll

Guaranteed to Run

Online Training

09:00 US/Eastern

Enroll

Guaranteed to Run

Online Training

09:00 US/Central

Enroll
Canada
Guaranteed to Run

Online Training

09:00 Canada/Central

Enroll

Guaranteed to Run

Online Training

09:00 Canada/Central

Enroll

Guaranteed to Run

Online Training

09:00 Canada/Pacific

Enroll

Guaranteed to Run

Online Training

09:00 Canada/Eastern

Enroll

Guaranteed to Run

Online Training

09:00 Canada/Central

Enroll

Guaranteed to Run

Online Training

09:00 Canada/Pacific

Enroll

Guaranteed to Run

Online Training

09:00 Canada/Eastern

Enroll

Guaranteed to Run

Online Training

09:00 Canada/Central

Enroll

Guaranteed to Run

Online Training

09:00 Canada/Pacific

Enroll

Guaranteed to Run

Online Training

09:00 Canada/Eastern

Enroll

Guaranteed to Run

Online Training

09:00 Canada/Central

Enroll