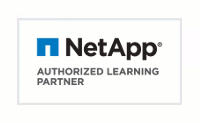 ONTAP Cluster Administration (ONTAP 9.6) (ONTAP9ADM)
Course Content
This three-day, instructor-led course uses lecture and hands-on exercises to teach the basic administration tasks of an ONTAP 9.6 cluster. You use the cluster shell and OnCommand System Manager to manage storage and network resources. ONTAP Cluster Administration is an intermediate course in a comprehensive learning path for NetApp customers, partners and employees.
Who should attend
Network Engineers
Channel Partners
System Engineers
NetApp Customers
Certifications
This course is part of the following Certifications:
Course Objectives
Manage ONTAP administrators
Configure and manage storage resources
Configure and manage networking resources
Create and configure a storage virtual machine (SVM)
Create and manage FlexVol volumes
Implement storage efficiency features
Create protocol servers within an SVM
Configure basic data protection features
Perform administrative and preventive maintenance tasks
Follow On Courses
Outline: ONTAP Cluster Administration (ONTAP 9.6) (ONTAP9ADM)
Module 1: NetApp ONTAP 9 Clusters
ONTAP deployment options
The cluster
SVMs
ONTAP select learning resources
NetApp cloud volumes learning resources
Module 2: Cluster Setup
Supported FAS and AFF configurations
Cluster setup
Administration interfaces
OnCommand System Manager: Guided cluster setup
Module 3: Cluster Management
Manage access control
Cluster node date and time
ONTAP software licenses
Manage jobs and schedules
Module 4: Network Management
NetApp ONTAP Network Review
Network ports
Network traffic segregation
LIFs
Nondisruptive LIF configuration
Routing management
Failover group commands
Routing management commands
BGP and VIP LIFs
Module 5: Physical Storage Management
Drives, RAID and aggregates
Advanced drive portioning
Flash cache and flash pool features
FabricPool aggregates
FabricPool in OnCommand System Manager
Module 6: Logical Storage Management
Flexible volumes
Provisioning storage resources
Moving storage resources
FlexGroup and FlexCache volumes
Autobalance aggregate
Module 7: Data Access
Use NAS protocols to access data
Use SAN protocols to access data
NVMe and NVMe/FC
Module 8: Data Protection
Manage Snapshot copies
Restore data from a Snapshot copy
Backup and replicate data
Compliance
Storage encryption
Secure purge and secure boot
Module 9: Storage Efficiency
Thin provisioning
Deduplication and compression
Flash efficiency
Volume and file clones
Inline deduplication status
Inline data compaction
Module 10: Cluster Maintenance
Data collection, monitoring and automation tools
Backing up and restoring your cluster configuration
Upgrading your cluster
Performance recommended practices
Technical support
Documentation
ONTAP software upgrades
Module 11: Course Review

Labs:
Exploring ONTAP Management UIs
Managing ONTAP clusters and administrators
Managing physical and logical network resources
Managing virtual network resources
Managing physical storage
Exploring RAID-TEC and creating a flash pool
Managing data volumes
Configuring NAS protocols in an SVM
Configuring iSCSI in an SVM
Managing Snapshot copies
Encrypting a volume
Managing storage efficiency
Managing FlexClone volumes
Bonus Exercise: creating a FlexGroup volume
Installing and configuring Config Advisor
Online Training
Duration 3 days
Price
CAD 3,780

NetApp Training Units:

36 NTU




NTU's may not have the same redemption value if used in a country other than where they were purchased.
Classroom Training
Duration 3 days
Price
Canada:

CAD 3,780

NetApp Training Units:

36 NTU




NTU's may not have the same redemption value if used in a country other than where they were purchased.
Click on town name to book
Schedule
This is an Instructor-Led Classroom course
Fast Lane will carry out all guaranteed training regardless of the number of attendees, exempt from force majeure or other unexpected events, like e.g. accidents or illness of the trainer, which prevent the course from being conducted.
This class will become guaranteed to run with one more student registration.
This computer icon in the schedule indicates that this date/time will be conducted as Instructor-Led Online Training.
This is a FLEX course, which is delivered both virtually and in the classroom.
Europe
Germany
Austria
Oct 12-14, 2020

This is a FLEX course.

Vienna (iTLS)

Enroll

Online Training

Time zone: Europe/Vienna

Enroll

Dec 14-16, 2020

Vienna (iTLS)

Enroll
Bulgaria
Nov 2-4, 2020

Online Training

Time zone: Europe/Sofia

Course language:

English

Enroll
Croatia
Aug 31-Sep 2, 2020

Online Training

Time zone: Europe/Zagreb

Course language:

English

Enroll
Czech Republic
Sep 21-23, 2020

Online Training

Time zone: Europe/Prague

Course language:

English

Enroll
France
Aug 31-Sep 2, 2020

Paris

Enroll

Oct 19-21, 2020

Paris

Enroll

Nov 23-25, 2020

Paris

Enroll

Jan 25-27, 2021

This is a FLEX course.

Paris

Enroll

Online Training

Time zone: Europe/Paris

Enroll

Mar 8-10, 2021

This is a FLEX course.

Paris

Enroll

Online Training

Time zone: Europe/Paris

Enroll

Apr 26-28, 2021

This is a FLEX course.

Paris

Enroll

Online Training

Time zone: Europe/Paris

Enroll

Jun 21-23, 2021

This is a FLEX course.

Paris

Enroll

Online Training

Time zone: Europe/Paris

Enroll

Jul 26-28, 2021

This is a FLEX course.

Paris

Enroll

Online Training

Time zone: Europe/Paris

Enroll

Sep 6-8, 2021

This is a FLEX course.

Paris

Enroll

Online Training

Time zone: Europe/Paris

Enroll

Oct 25-27, 2021

This is a FLEX course.

Paris

Enroll

Online Training

Time zone: Europe/Paris

Enroll

Nov 29-Dec 1, 2021

This is a FLEX course.

Paris

Enroll

Online Training

Time zone: Europe/Paris

Enroll
Italy
| | | | |
| --- | --- | --- | --- |
| | Oct 19-21, 2020 | Rome | Enroll |
| | Nov 30-Dec 2, 2020 | Milan | Enroll |
| | Feb 1-3, 2021 | Milan | Enroll |
| | Mar 8-10, 2021 | Rome | Enroll |
| | Apr 19-21, 2021 | Milan | Enroll |
| | Jun 7-9, 2021 | Rome | Enroll |
| | Jul 26-28, 2021 | Milan | Enroll |
| | Sep 13-15, 2021 | Rome | Enroll |
| | Oct 18-20, 2021 | Milan | Enroll |
| | Nov 29-Dec 1, 2021 | Rome | Enroll |
Netherlands
Aug 31-Sep 2, 2020

This is a FLEX course.

Guaranteed to Run

Utrecht

Course language:

English

Enroll

Online Training

Time zone: Europe/Amsterdam

Enroll

Oct 12-14, 2020

This is a FLEX course.

Utrecht

Course language:

English

Enroll

Online Training

Time zone: Europe/Amsterdam

Enroll

Nov 23-25, 2020

This is a FLEX course.

Utrecht

Course language:

English

Enroll

Online Training

Time zone: Europe/Amsterdam

Enroll
Poland
Sep 2-4, 2020

Online Training

Time zone: Europe/Warsaw

Enroll

Nov 23-25, 2020

Online Training

Time zone: Europe/Warsaw

Enroll
United Kingdom
Aug 10-12, 2020

Online Training

Time zone: Europe/London

Enroll

Sep 14-16, 2020

This is a FLEX course.

London, City

Enroll

Online Training

Time zone: Europe/London

Enroll

Oct 12-14, 2020

This is a FLEX course.

London, City

Enroll

Online Training

Time zone: Europe/London

Enroll

Nov 16-18, 2020

This is a FLEX course.

London, City

Enroll

Online Training

Time zone: Europe/London

Enroll

Dec 14-16, 2020

This is a FLEX course.

London, City

Enroll

Online Training

Time zone: Europe/London

Enroll
Asia Pacific
Australia
Sep 7-9, 2020

Online Training

Time zone: Australia/Sydney

Enroll

Oct 12-14, 2020

Online Training

Time zone: Australia/Adelaide

Enroll

Nov 9-11, 2020

Online Training

Time zone: Australia/Melbourne

Enroll

Dec 7-9, 2020

Online Training

Time zone: Australia/Sydney

Enroll
India
Aug 24-26, 2020

Online Training

Time zone: Asia/Calcutta

Enroll

Sep 7-9, 2020

Online Training

Time zone: Asia/Calcutta

Enroll

Sep 21-23, 2020

Online Training

Time zone: Asia/Calcutta

Enroll

Sep 28-30, 2020

Online Training

Time zone: Asia/Calcutta

Enroll

Oct 12-14, 2020

Online Training

Time zone: Asia/Calcutta

Enroll

Oct 26-28, 2020

Online Training

Time zone: Asia/Calcutta

Enroll

Nov 9-11, 2020

Online Training

Time zone: Asia/Calcutta

Enroll

Nov 16-18, 2020

Online Training

Time zone: Asia/Calcutta

Enroll

Nov 23-25, 2020

Online Training

Time zone: Asia/Calcutta

Enroll

Dec 7-9, 2020

Online Training

Time zone: Asia/Calcutta

Enroll

Dec 16-18, 2020

Online Training

Time zone: Asia/Calcutta

Enroll