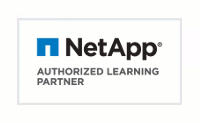 ONTAP SMB Administration (CIFSAD)
Course Content
ONTAP SMB Administration is a one day course that extends the CIFS information found in the ONTAP Cluster Administration course. You will review and explore SMB 3.x and the features of ONTAP 9 software that support the SMB protocol. Hands-on labs are completed using ONTAP 9 software.
Who should attend
Engineers
Channel Partners
NetApp Customers
Prerequisites
Familiarity with Microsoft Windows Server 2012
Familiarity with Microsoft Active Directory
Course Objectives
Explain the CIFS and SMB protocol
Demonstrate the Windows PowerShell CLI
Configure SMB features using ONTAP 9 software
Create and manage SMB shares and sessions
Secure SMB sessions
Configure ONTAP for multiprotocol data access
Discuss SMB advanced topics, such as opportunistic locks (oplocks), BranchCache, auditing, group policy, automatic home shares, symbolic links (symlinks), and widelinks
Outline: ONTAP SMB Administration (CIFSAD)
Module 1: SMB Overview
Data fabric
Data fabric layers
CIFS and SMB protocols
NT LAN manager
Kerberos authentication
Active Directory
Workgroup environments
NetApp PowerShell toolkit
Module 2: SMB Setup
SMB implementation
Licensing CIFS
SVM for SMB access
FlexVol volumes
DNS entries for the SVM
SMB share access
Module 3: SMB Shares and Sessions
SMB share
Creating a share
Client access
SMB automatic referrals
SMB sessions
Session administration
SMB encryption
Offline folders
Offloaded data transfer
Module 4: Access Control
Share permission administration
Access-based enumeration
Dynamic access control
File blocking policies
Local users
Workgroup authentication
Multiprotocol access
Module 5: Advanced Topics
Microsoft opportunistic Lock (oplock) features
Automatic home share
Group policy object (GPO)
Symlinks
Widelinks
Appendix A: BranchCache
Versions
BranchCache environment configurations
ONTAP 9 BranchCache
BranchCache installation on Windows Servers
BranchCache configuration on Windows clients
Appendix B: Auditing
Auditing concepts
Terminology
ONTAP 9 auditing process
Implemtent auditing
Output file format
Labs:
Install NetApp PowerShell Toolkit and configure for use
Create a Storage Virtual Machine (SVM) and configure it for SMB access
Create an SMB share, connect to the share from your Windows client, and manage SMB sessions
Create a domain user, restrict share-level permissions
Create a local user group and give share-level permissions
Create a multiprotocol configuration and enable a root Linux user to be mapped to the Windows domain administrator
Configure home directories and symbolic links on the SVM
Online Training
Duration 1 day
Price
CAD 1,150

NetApp Training Units:

12 NTU




NTU's may not have the same redemption value if used in a country other than where they were purchased.
Classroom Training
Duration 1 day
Price
Canada:

CAD 1,150

NetApp Training Units:

12 NTU




NTU's may not have the same redemption value if used in a country other than where they were purchased.
Click on town name to book
Schedule
This is an Instructor-Led Classroom course
Guaranteed date: Fast Lane will carry out all guaranteed training regardless of the number of attendees, exempt from force majeure or other unexpected events, like e.g. accidents or illness of the trainer, which prevent the course from being conducted.
Instructor-led Online Training: This computer icon in the schedule indicates that this date/time will be conducted as Instructor-Led Online Training.
This is a FLEX course, which is delivered both virtually and in the classroom.
Canada
Oct 26, 2020

Guaranteed to Run

Online Training

08:30 Canada/Eastern

Enroll

Dec 7, 2020

Guaranteed to Run

Online Training

09:00 Canada/Central

Enroll

Feb 15, 2021

Online Training

09:00 Canada/Central

Enroll

Apr 12, 2021

Online Training

09:00 Canada/Eastern

Enroll

Jun 14, 2021

Online Training

09:00 Canada/Pacific

Enroll

Aug 16, 2021

Online Training

09:00 Canada/Central

Enroll

Oct 4, 2021

Online Training

09:00 Canada/Eastern

Enroll

Nov 29, 2021

Online Training

09:00 Canada/Pacific

Enroll
United States
Oct 26, 2020

Guaranteed to Run

Online Training

08:30 US/Eastern

Enroll

Dec 7, 2020

Guaranteed to Run

Online Training

09:00 US/Central

Enroll

Feb 15, 2021

Online Training

09:00 US/Central

Enroll

Apr 12, 2021

Online Training

09:00 US/Eastern

Enroll

Jun 14, 2021

Online Training

09:00 US/Pacific

Enroll

Aug 16, 2021

Online Training

09:00 US/Central

Enroll

Oct 4, 2021

Online Training

09:00 US/Eastern

Enroll

Nov 29, 2021

Online Training

09:00 US/Pacific

Enroll